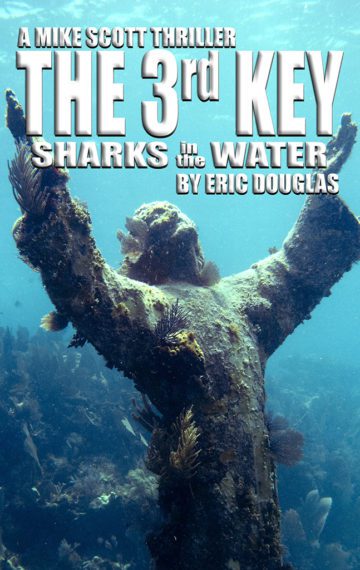 Publisher:

High Visibility Press

Edition:

First Edition

Available in:

Softcover, Kindle

Published:

June 1, 2017
Amazon: Kindle and softcover
Barnes and Noble
Sharks are attacking divers in the Florida Keys. Mike Scott barely survives the first incident. But it doesn't make sense. These sharks are especially aggressive, attacking in groups and not retreating. It's almost like someone is controlling them.
The discovery that a narco sub full of drugs sank nearby may be the reason, but that doesn't explain why all the activity is focused around the Christ of the Abyss statue in Key Largo. Is there something else going on? Is it the statue itself? Or is there a larger conspiracy? It's up to Mike to unravel the mystery before anyone else gets hurt. Or killed.
The 3rd Key: Sharks in the Water is the eighth story in the Mike Scott thriller series.
Check out a book trailer
Read a Preview now!
Early Reviews for The 3rd Key: Sharks in the Water
Scuba divers hate it when they read about a character donning their 'flippers', 'goggles' and 'oxygen tank'. And then diving in a way that cannot happen in real life. Eric Douglas has nicely balanced technically accurate scuba diving terminology and protocols, alongside a good fictional story. The result? You want to explore the ocean, alongside Mike Scott!
— Rosemary E Lunn: Diving Journalist and Scuba Industry Fixer
The story describes an underwater cops and robbers quest for the last of three long lost keys to an ancient secret treasure. Douglas develops an intriguing interwoven mesh of undercurrent of multi-faceted mystery and adventure. The reader will be pleasantly surprised to learn that not all heroes must save an entire country or world, once in a while it's refreshing to just save the neighborhood.
— Deveron Milne
Mike Scott is the man! Eric Douglas continues to build on a character every adventurous soul wishes they could be…or befriend from a safe distance.
— Greg Holt
Mike Scott returns as everyone's favorite diving action hero for another underwater adventure! This one has no less than 3 plots happening at the same time, some amazing twists and turns, the past tangled with the present,  and of course, SHARKS! This book will make you ignore responsibilities, stay up way too late, and love every page! I never saw this ending coming. Check it out and hang onto something, it's one hell of a ride!
— CJ Goodearl
This new Mike Scott Novel is fantastic! I opened to look it and the beginning GRABBED me and took me on a ride!  For fans of the previous novels, there are flashbacks to story lines from previous journeys as well as many of our favorite characters. The story is compelling and riveting and I could not put it down! You will love this new book!  The best work yet from Eric Douglas!
— Rich Synowiec
Eric Douglas has done it again. He has given us another compelling Mike Scott story filled with plot twists and turns. As Eric has done in his other novels, he has touched on some interesting history in crafting this fun tale; this time of an iconic Keys landmark. I can only imagine what kind of trouble Mike Scott would find if he actually went looking for it – trouble just seems to find him.
— Steve Barnett