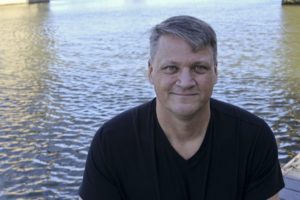 Eric Douglas spent his childhood Sunday nights watching "The Undersea World of Jacques Cousteau" and dreamed of diving alongside the captain.
He became a diver, and then a dive instructor, and a diver medic, meeting his goals and pursuing a life of adventure and travel. In his diving career, he worked for PADI, Divers Alert Network and has been the Lessons for Life columnist for Scuba Diving Magazine since 2009.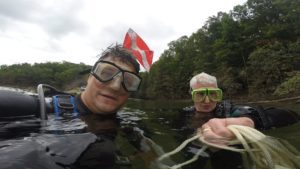 He has authored nine novels and two novellas in the Mike Scott thriller series: Cayman Cowboys, Flooding Hollywood, Guardians' Keep, Wreck of the Huron, Heart of the Maya, Return to Cayman, Oil and Water, The 3rd Key: Sharks in the Water, Turks and Chaos: Hostile Waters,  Water Crisis: Day Zero and the latest Held Hostage: Search for the Juncal.
He also written a series of diving short stories set on the fictional Withrow Key. He authored four children's stories, collected in the book Sea Turtle Rescue and Other Stories.
Nondiving fiction includes the historical fiction collection River Town and the dark thriller Real Thugs: A Cult of Murder.
The inspirational biography Dive-abled: The Leo Morales Story is available through Best Publishing and he and former DAN President Dan Orr co-authored the scuba diving reference book Scuba Diving Safety.
After completing a program at the Center for Documentary Studies at Duke University, Eric jumped into documentary work. He has worked in Russia, Honduras and most recently in his home state of West Virginia, featuring the oral histories of West Virginia war veterans in the documentary West Virginia Voices of War and the companion book Common Valor and the FestivALL Oral History Project that led to the Memories of the Valley documentary.
Eric's most recent documentary is Batter Up, Baseball In Charleston, an hour-long radio program that aired on the West Virginia Public Broadcasting network. He currently serves as the News Director for West Virginia Public Broadcasting.