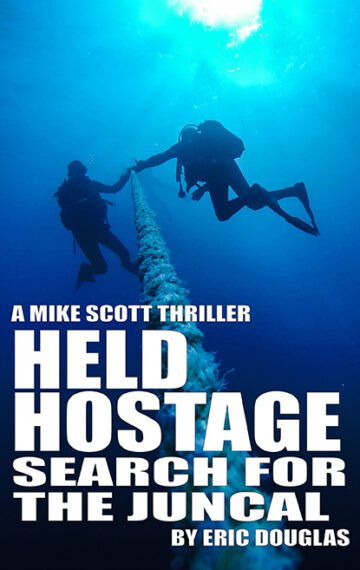 Now Available!
Publisher:

Visibility Press

Available in:

Kindle, Paperback

Published:

December 14, 2021
Kindle, Paperback
Photojournalist Mike Scott is about to get married to the woman he loves — archeologist Frankie DeMarco – but her kidnapping sets Mike on a collision course with the treasure hunter who took her. The man wants Frankie's help finding a 400-year-old shipwreck so Mike sets out to find it first to get her back safely. Word of a secret cargo on board raises the stakes even higher.
This is the 11th book in the Mike Scott thriller series.
Listen to Eric speaking with Greg Holt from ScubaRadio about Held Hostage on Christmas Day!
Reviews:
Who has never dreamed of finding a Spanish shipwreck sunk 400 years ago? In this 11th Mike Scott novel, you will feel part of the search with Mike! But be warned… You won't be able to put that story aside!
— Darcy Kieran, Business of Diving Institute
Eric Douglas does it again with his latest Mike Scott release. Action packed and attention to detail that divers will appreciate. However, everyone will cheer for the characters in this adventure!
— Greg "The Divemaster" Holt
"Sunken treasure and scuba diving – how can anyone resist? You won't be disappointed."
— Tricia on Amazon
"Extremely engaging. Looking forward to the next Mike Scott adventure!'
— Margaret on Amazon