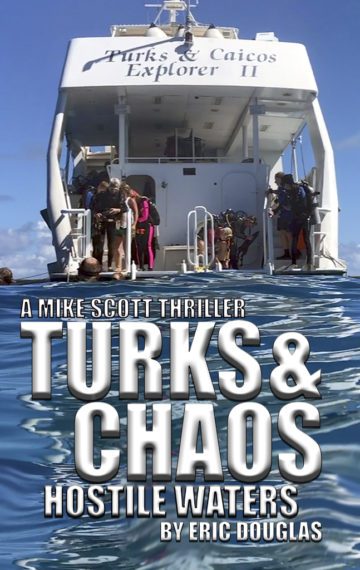 Now available as an audiobook!
$2.99/$7.99/$6.95
Publisher:

Visibility Press

Edition:

1st

Available in:

Softcover, ebook, audiobook

Published:

December 25, 2017
Amazon Softcover and Kindle and Audiobook
Audible audiobook
Barnes and Noble
Turks and Chaos: Hostile Waters is the latest Mike Scott thriller story. This novella is #9 in the series.
Armed gunmen board a liveaboard dive boat near Turks and Caicos in this sea story/action thriller. News photographer Mike Scott is on a dive vacation and gets taken hostage when the theft doesn't go as planned. When the identity of the head pirate is exposed, he declares that all the passengers will die when they reach their destination. It's up to Mike, the passengers and crew to overcome the pirates and save their own lives. It doesn't help matters that there is a mole on board feeding the pirates information and they are heading right into a storm. Now they must rebel against the pirates and take the boat back before time runs out…
Now available as an audiobook!
This story is set on board a trip on the Explorer Ventures Turks and Caicos Explorer. It features many of the passengers who were on board during a trip in the fall of 2017, including several cast members from ScubaRadio. They voice their own characters in the audiobook version.
Not an Audible user? Get Turks and Chaos for FREE!
Listen to a sample:
Preview

Reviews
Fun read for an injured diver
I always enjoy Mike Scott thrillers and this short novella was no exception. Fortunately I found it while in Bora Bora after a fall that is keeping me out of the water today. I do wish it were longer and I look forward to hearing the rest of the story in 2018.
Mike Scott keeps stumbling into interesting situations.
I always enjoy the Mike Scott stories by Eric Douglas. If you have ever spent time on a liveaboard dive boat, you'll enjoy the plot twists in this novella. If this is what happens on a ScubaRadio dive trip, I think I need to sign up for the next one!
Eric Douglas never ceases to amaze. I felt like I was in the story 
Eric Douglas never ceases to amaze. I felt like I was in the story and the action scenes felt realistic. My growing Eric Douglas novella collection is enhanced with this edition.
Listen to Eric on ScubaRadio talking about the origins of this story, and hear the crew come up with the title.
"Fans of Clive Cussler will enjoy this brand-new novella in the Mike Scott thriller series from Eric Douglas."
— Greg Holt, host of the talk radio show ScubaRadio.