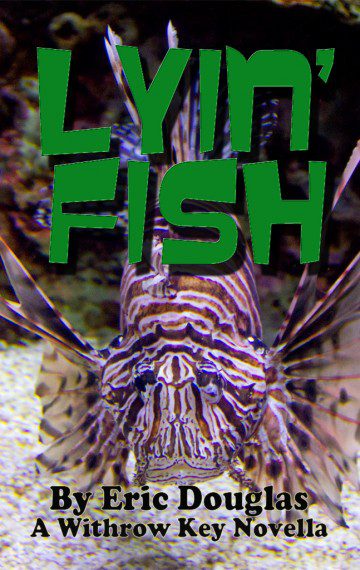 Publisher:

Visibility Press

Edition:

First

Available in:

Paperback, Kindle

Published:

August 15, 2015
Amazon: Kindle, softcover
Audible audiobook
iBook
Now in audiobook format!
The crew from the nationally-syndicated talk radio show ScubaRadio comes to sleepy Withrow Key for a lionfish rodeo, but immediately Jackson Pauley feels something isn't right. "Greg the Divemaster" Holt can barely dive. When Jackson spears a lionfish, Greg grabs it and gets stung. The radio show is a disaster. When Duffy, the local bar owner, goes missing Jackson, Littlebear and Zach jump into action to unravel the mystery and save their friend.
Lyin' Fish is the ninth story from Withrow Key. Set on a bypassed key in the Florida Keys, life moves a little slower and a little weirder. Each Withrow Key thriller features scuba diving, adventure, boats, the ocean and mystery along with beautiful locations and scenery.
If you've missed the earlier stories in the Withrow Key series, check out Tales from Withrow Key to read the entire collection.
Preview
Read a preview now!
Reviews
Casey McCarthy: Five Stars: I enjoy all three 
I have been to lion fish rodeos. I know Greg and crew. I have read this book. I enjoy all three. You will too.
Hayley: Five Stars: This is just a enjoyable easy read. Love the characters and thought it would … 
This is just a enjoyable easy read. Love the characters and thought it would make a good movie or TV show!.. even though it features a radio show!
Scubadog: Five Stars: What a great page turner 
What a great page turner. Once I started reading I couldn't stop until it was finished! Great depth of characters… Reminiscent of a Clive Cussler novel.
CJ G.: Five Stars: Lyin Fish is a must-read for divers and non divers alike! 
What a fun read! If you've been to the Florida Keys, Lyin' Fish takes you right back for an adventure in and out of the water! If you haven't made it down yet, this compelling story and it's rich characters make you feel as if you had. I feel like I know these guys… Wait, I do!
DoctorDaddy: Five Stars:  Eric Douglas paints the world of Withrow Key in full color… some real some imagined. 
Eric has done it again !! Lured in by a fancy cover and a clever title I am once again three hours later in my life having found myself completely immersed in the world that Eric Douglas has created on Withrow Key.
I'll let you know that if I didn't know for sure that Scubaradio existed, I would have believed that Eric had created each and every one of these eventually heroic anti-heroes.
If you like real life diving, fishing and boating and characters so colorful they shouldn't be able to exist… you will love the real and imagined world of Withrow Key… once again !.