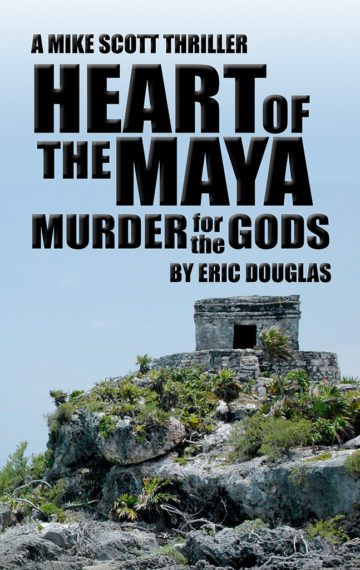 Publisher:

Visibility Press

Edition:

First

Available in:

Paperback, Kindle
Amazon Kindle and Paperback
Barnes and Noble
Murder, kidnapping and the theft of an ancient Mayan statue, both 500 years ago and today, and diving in cenotes on the Mayan Riviera all come into play in this Mike Scott thriller.
Speaking at his alma mater Mike Scott learns that the death of a friend 25 years before might not have been an accident. That discovery, and the revelation of who was behind the murder, sends Mike on a hunt to find a missing Mayan statue that contains the "heart of the Maya" before a lunatic drug dealer with delusions of grandeur kills a friend and corrupts the Mayan people.
Preview
Read a preview now!
WV Public Broadcasting
Listen to this great interview Eric did with Jim Lange of WV Public Broadcasting and hear him read an excerpt from Heart of the Maya. 
World of Boating
Listen to Eric talking to Engineer Bill from the World of Boating radio show about Heart of the Maya.
Scuba Radio
Listen to Eric talking to Greg the Divemaster from Scuba Radio, the world's first radio show devoted to diving, on May 24 about Scuba Diving Safety and Heart of the Maya!
Both World of Boating and Scuba Radio are nationally-syndicated talk radio shows.
Reviews:
Reviews:
5.0 out of 5 stars 
A little something for everyone
 By Jean Hanna Davis: Eric Douglas has written a great book. Heart of the Maya has it all….a little history, a little love, a little mystery, a little adventure, and nicely crafted story line that will hold your attention and make you wish you had read a little slower to make it last a little longer!This is my favorite of the Mike Scott novels. Take some time and read it. You won't be disappointed. 5.0 out of 5 stars 
Great job by Eric Douglas
 By Phil Adcock: Eric has done another great job, this time writing about diving, cenotes and a present day connection to the Mayans. The Riviera Maya area is my favorite diving destination. Good work Eric! 5.0 out of 5 stars 
I love books about WV and any kind of history – this book does both!
 By Pamela: I have read the whole Mike Scott series and have enjoyed the mix of history and mystery. I am not a diver – but it doesn't keep from understanding any part of the book (it's all explained without being condescending) and the interweaving of detective and historical-perspective is a nice way to develop a story and the characters without the need for a whole bunch of interpersonal drama – no soap operas – just solid story development.
5.0 out of 5 stars
Murder, mystery, intrigue and a bit of diving
By
 Jon Rusho: Eric Douglas has crafted yet another excellent "Mike Scott" novel. Mike returns home and is pulled into a web of intrigue: the murder of one of his college friends 25 years prior, kidnapping of a new friend, traveling to the Mayan Riviera, and a maniacal villain trying to seize control.
Expect to lose some sleep…you won't be able to put it down. 5.0 out of 5 stars Another Awesome Mike Scott Adventure By Divers Incorporated: Eric Douglas has done it again with the newest edition to the Mike Scott Series. This book takes you on an adventure with heart pounding underwater scenes, fantastic plot twists and some amazingly well researched history. You will be a fan the minute you start reading! 5.0 out of 5 stars A Novel With a Brain! By Darcy Kieran – Montreal Scuba (Montreal, Quebec, Canada): Mike Scott did it again! I mean… Eric Douglas did! A novel with a brain! And a heart. And adrenaline. And scuba diving! Have fun and learn at the same time.