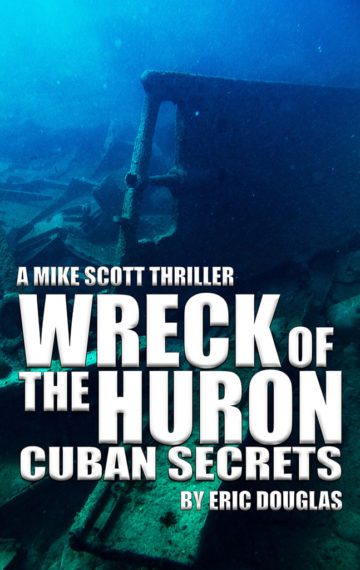 Publisher:

Visibility Press

Edition:

First

Available in:

Kindle, Paperback
Amazon Kindle and Paperback
Barnes and Noble
The USS Huron went down off the coast of North Carolina in 1877, taking most of her crew and a mystery about why they were headed to Cuba in the first place with her. When a present-day storm uncovers a long-hidden portion of the wreck, including the captain's lock box, international photojournalist Mike Scott and his friends dive on the wreck to find out more.
When the archaeologist helping them unravel the contents of the lock box disappears, right after finding a hidden, coded message inside, Mike heads to the Isle of Pines in Cuba, once known as Treasure Island, to discover the secret message that sank with the Huron and the whereabouts of the archaeologist. Out of nowhere, a hurricane looms over the island, Mike and his friends are forced to run for cover, both from the elements and the men who are set against them, looking to recover the secret of the Huron themselves.
Preview
Read a preview now!
Reviews
From JC in Cuba: "I have finished reading the Wreck of the Huron, really amazing adventures through it! I think I liked so much among other things because it portrays about my country, I have been to Isla de la Juventud, I have been through its beautiful beaches, I have been through hurricanes so, while I was reading, I had my own image of the places you described in the book. Last part of the story was full of action indeed!!!"
Great read! Wreck of the Huron is the fourth Mike Scott Adventure. It was good and makes me think I should go back and read the first three. Mike and his cohorts are great characters. But what really makes this fast-paced thriller special is the use of diving knowledge, sunken treasure, and a historical ship wreck – USS Huron that went down 1877 off the coast of North Carolina. The fictional treasure and conspiracy that leads to the sinking of the Huron makes for a great ride for the reader. It's the "what if" that we all love.
Adventure–but be prepared to lose some sleep Another awesome Mike Scott adventure by Eric Douglas. Based on the historical sinking of the Huron on it's way to Cuba in the 1870's, Douglas has created an intricate story of intrigue and conspiracy. Be careful buying this book–I lost several hours of sleep because I couldn't put it down!
Latest of a fun scuba series! It's a fun series of scuba diving novel by somebody who knows scuba diving inside out! And this latest one is a really cool one!