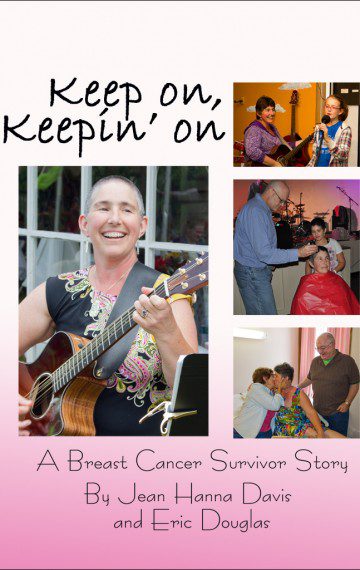 Publisher:

The Whole Picture

Edition:

First

Available in:

Paperback, Kindle
Kindle
Paperback
Barnes and Noble softcover
In the Spring of 2013, Jean Hanna Davis was diagnosed with breast cancer for the second time in 10 years. The first time, she was pregnant with her second child. This time, her daughter helped her through the process. Throughout it all, Jean's mantra was "Keep on, Keeping on."
This book includes interviews, stories, Facebook posts (to begin each chapter), essays written by Jean and private thoughts recorded in the evenings or on the way to her chemo appointments. While Jean is an upbeat and optimistic person, it isn't all sunshine and roses. It is a real look at chemo and breast cancer.
Preview
Read a preview now!

**This book was accepted for sale by a jury of writing peers at the exclusive Tamarack bookstore.
The book started out as a series of blog posts in October 2013 for Breast Cancer Awareness Month. Read Telling the Stories that Need to Be Told for the introduction to this project.
Since the book was published, Douglas wrote:
And for your listening pleasure, here is Jean Hanna Davis singing I Run For Life by Melissa Etheridge in the hospital during her final chemotherapy.
Before beginning this series with Jean, Eric wrote three posts about being inspired by Teresa Holovic O'Connor and her fight with cancer.