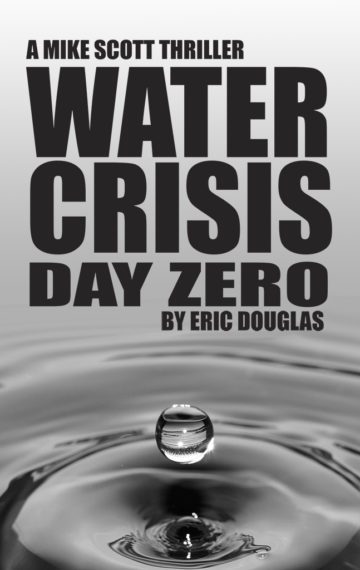 Publisher:

Visibility Press

Edition:

1st

Published:

July 31, 2018
Amazon Kindle and Softcover
Barnes and Noble
Dwindling freshwater resources around the world are causing unrest, riots and civil war. When photojournalist Mike Scott uncovers a Russian oligarch's plans to throw the United States in turmoil by poisoning the groundwater, he is in for the fight of his life to stop it. It's a race against time as Mike fights computer hackers, teams of assassins and robot drones to protect South Florida and the United States from its own Day Zero.
This is the 10th Mike Scott thriller in the series.
Preview
Listen to Eric discuss the book on ScubaRadio
Early Reviews!
Water Crisis: Day Zero does more than just provide solid thrills. It will make you paranoid about the world we live in.
Sheila Redling, bestselling author
In our present day of sociopolitical and environmental nightmares we tend to stick our heads in the sand, avoiding real issues. We seek entertainment and escapism as antidote to what we don't want to see in the real world. Eric Douglas tricks us into both with his new Mike Scott novel, Water Crisis.  Through his smoke and mirrors of escapist adventure, Douglas back doors us into two of the greatest threats we face. While having a heck of a lot of fun!
For my money, Water Crisis the best Mike Scott book yet.
Daniel Boyd, author/playwright/filmmaker, Chillers, Carbon, Paradise Park
'Water Crisis, Day Zero' is a taut thriller with an interesting cast of characters and page turning plot twists. I finished the book anxious to find out what might happen next to Mike Scott, et al. Do not keep us waiting too long for the next adventure, Eric!
Ken Berry, screenwriter/director Giant Stride The Movie
Ripped from the latest environmental headlines with attention to high tech and geographical detail, Mike Scott's latest adventure really has you question what Author Eric Douglas has imagined and what could quite possibly be real. 2 big fins up….again!