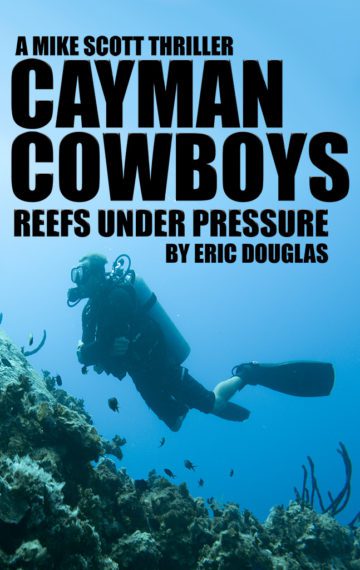 Audiobook Now Available!
Publisher:

Visibility Press

Edition:

Second

Available in:

Paperback, ebook, audiobook
Kindle, Paperback and Audiobook
Audible
Diving in Grand Cayman, magazine photographer Mike Scott notices a series of unusual occurrences including the death of a girl, a protest of new development and the systematic destruction of coral reefs. It all comes together when armed men warn him away from a dive site. Investigating, he witnesses a specially-equipped submarine destroying the reef. Before he is able to report the destruction to the authorities, he and his dive buddy, Kelly, are kidnapped–along with Kelly's girlfriend Tanya. Friends rescue Mike and Tanya, but the assassin gets away with Kelly, taking him to die. They must race against time to save Kelly and bring down the greedy developer putting his own wealth before the beauty of the island and the welfare of the people.
Action, adventure, intrigue and the environment all come into play in this thriller by author Eric Douglas. Set at the beautiful dive resort Sunset House on Grand Cayman, a must-visit, this book highlights the beautiful locations and touches on the potential for abuse as the environment and development fall into conflict.
Listen to a sample of the Cayman Cowboys audiobook
Or Read a Preview
Reviews
5.0 out of 5 stars.  Great book by Christina H. Warnick "Tina from Maryland": Good story line. Felt like I was diving along with Mike Scott. Can't wait to read the other books in the Mike Scott series.

The story gets moving right away. I also loved the fact I could relate to my own dive experiences. It was almost as though I were there. — Patrick Hammer, owner Scuba Emporium

a gripping novel of intrigue and corruption in the Cayman Islands — weaving into it the diving background (Eric) knows so well. — Peter B. Bennett, Ph.D., D.Sc. , founder Divers Alert Network

I thought the book was great! Great story line! Interesting twist at the end. — Keith Sahm, Marketing Director, Sunset House, Grand Cayman

Finished Cayman Cowboys yesterday….loved it!….2 fins up for sure! — Greg Holt, Scuba Radio

… a fast, fun read. You will enjoy it. I did. — Jon Coon, author of Blackwolf and Thief of the Deep

by all means, read this book as its a bit of underwater fun… — Steve Weinman, editor Diver Magazine

… great fun! Perfect book for a dive vacation. — Bill Clendenen, President, Medic First Aid International

Scuba diving needs new heroes like Mike Nelson from Sea Hunt. Mike Scott is that hero. — Jeff Myers, VP, Training, Divers Alert Network

Anyone who likes adventure, the underwater world and a damn good read will enjoy it. — Ken Berry, Executive Producer, DSAT

Anyone who has worked as a divemaster can see a little bit of themselves in Mike Scott. — Steve Barnett , Photographer / former Cayman photopro