Capturing Memories: How to Record Oral Histories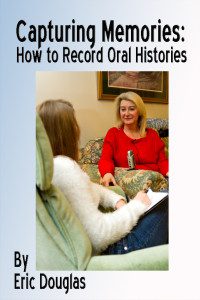 The opportunity to capture your own family oral history has never been easier. Advances in technology make it possible for everyone to record their own family histories, simply using their own smartphones. To get you started, check out the book Capturing Memories: How to Record Oral Histories.
Oral History Projects
Batter Up! Baseball in Charleston. An audio documentary based on interviews with 28 fans talking about baseball in Charleston, W.Va. from the 1940s to today. 
The West Virginia Voices of War Project features the memories of 46 different war veterans.
Keep on, Keepin' on: A Breast Cancer Survivor Story is a project with Jean Hanna Davis as she goes through her second round of chemotherapy for breast cancer.
Memories of the Valley: The FestivALL Oral History Project. This is a collection of oral histories recorded by residents of Charleston, West Virginia about their lives growing up there.