Carter Taylor Seaton interviewed Eric about "Held Hostage" and his writing and research for the local television show "Chapters." Watch it on YouTube now.
Eric made seven trips to Russia throughout his career as a journalist. The student newspaper at Marshall University, The Parthenon, reached out to Eric for his perspective on the Russian people just after the invasion of Ukraine. You can read that story here.
Eric was recently interviewed by Michael Wall for the Too Opinionated podcast. You can watch the podcast on YouTube or listen wherever you get your podcasts.
Eric has returned to journalism full time and is currently serving as the News Director for West Virginia Public Broadcasting.
A profile on Eric from the GetCreativeWV website.
The episode is called  082 The Benefits of Analyzing Diving Accidents With Eric Douglas
Last year, Tec also asked Eric to be a part of his League of Extraordinary Divers Podcast. Listen to it here. LXD 024 : Eric Douglas – Author and Diving Safety Expert
Eric spoke with author Carter Taylor Seaton for the television show Chapters by Zoom about writing and his book Real Thugs.
Following the tragic fire on the MV Conception in California, CNN asked Eric to write an essay. Read it here.
He also appeared on CBSN and Fox News Fox and Friends to discuss the tragedy. Watch both clips.
Eric was interviewed by Eliot Parker for his Chapters Program.
For his monthly column in the Sunday Gazette-Mail, Bill Lynch wrote about taking on the NaNoWriMo and asked Eric, among others, what it was to be a writer and be published.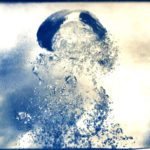 Eric recently exhibited a collection of his underwater and topside images, printed as cyanotypes, at the August 2018 Downtown Charleston ArtWalk. Read the official promotion.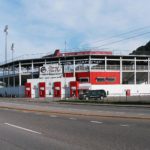 Article from the Charleston Gazette-Mail about Eric's ongoing project with FestivALL to record oral histories. The 2018 effort is to collect stories of baseball in the capitol city.
April 2018, Eric did an author-to-author interview with JD Byrne shared on his website. He asked some good, fun questions about Eric's latest work-in-progress and his writing process in general.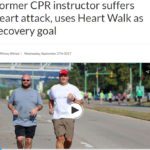 WCHS/WVAH-TV did a story on my heart recovery as a promo for the 2017 Charleston (WV) Heart Walk sponsored by the American Heart Association. Watch the story here.
In July, 2017, Eric joined Eclectopia host Jim Lange on the air for an hour of music and mayhem. Eric was joined in the studio by Kaitlin Jordan, his step-daughter who is a big fan of the show. Unfortunately, for copyright issues, we couldn't include the music as well. But you can listen to the talk portion, here. Including a short reading from The 3rd Key!
In June 2017, Eric joined Anne O'Bannon on The Morning Mix in the Florida Keys for a radio interview, talking about The 3rd Key. Listen to the interview here.
Check out this cool commercial for the Mike Scott thillers in audiobook format. Produced exclusively for ScubaRadio.
The following is a collection of publicity, interviews and news articles over the last few years. (You can also find a series of interviews specific to heart disease on the Heart Disease and Diving page.)
During the DEMA Show 2015, DeeperBlue.com published a nice profile of me and my books.
My profile on the West Virginia Film Office's Tuesday Crew Day.
Review and interview from the Charleston (WV) Sunday Gazette-Mail on 8-16-15.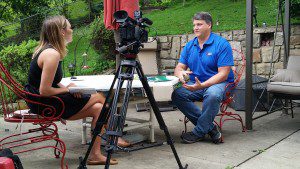 I was a guest on the Reboot It technology podcast talking about the technothriller Return to Cayman: Paradise Held Hostage and the technology issues that keep coming true.
The local CBS affiliate called and wanted to talk about shark attacks.
Story from the Charleston Gazette on the FestivALL Oral History Project.
Dive In: A travel story from the Charleston Sunday Gazette-Mail on Grand Cayman
An interview with Eliot Parker for the local television show Chapters.
From the Cayman Compass newspaper. (I never actually lived on the island, just conducted training there.)
Cayman 27 came out and did a story at the Cayman release party as well. It's only 47 seconds long, but still pretty good.
Eleanor Parker Sapia (Author of A Decent Woman) interviewed Eric for The Writing Life.
Official release of Return to Cayman on Scuba Radio
Scuba Radio from 10-15-14 talking about the next Mike Scott novel.
Scuba Radio from 9-20-14
Profile in the WV State Journal from 9-11-14: Writer, author, scuba diver calls WV home, again
Interview with Jim Lange from WV Public Broadcasting, includes reading a section from Heart of the Maya
World of Boating from 5-30-14 talking about Heart of the Maya
Scuba Radio from 5-24-14 talking about Heart of the Maya
Diversync from 12-13-14
Scuba Radio from 9-12-13
Article originally from the Charleston Daily Mail about the WV Voices of War project premiere from 5-26-13.
Article from the Charleston (WV) Gazette: Diving writer Eric Douglas comes up for air
On the For Cheap Lobster page, you can also see Eric talking about the Lobster Divers of Honduras on NBC and in the New York Times.