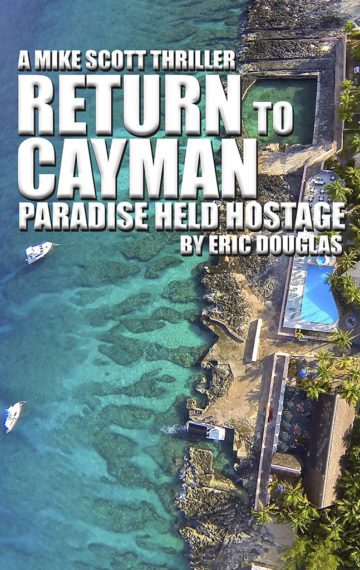 Publisher:

Visibility Press

Edition:

First

Available in:

Paperback, Kindle, Audiobook
Amazon Kindle, Paperback and Audiobook
Audible audiobook
Barnes and Noble
 A cruise ship drops anchor in the George Town harbor on Grand Cayman, tearing up a coral reef.
Mike Scott is trapped inside the reef while scuba diving and nearly dies.
A car is hacked and runs into George Town harbor, nearly drowning the driver.
Somehow, it's all connected. When all of the island's communications are shut off from the world by an environmental terrorist, it is up to Mike Scott and his friends to put a stop to it. When they discover there is something else going on entirely, they realize the whole world is in danger.
Preview
Read a preview now!
Listen to a sample from the audiobook version.
Return to Cayman is the sixth Mike Scott thriller taking the international news photographer back to Grand Cayman and Sunset House where it all started. The first book in the Mike Scott thriller series is Cayman Cowboys. Many of the same characters from that book, including Sunset House and My Bar, reappear in this story.
From the Cayman Compass newspaper. (I never actually lived on the island, just conducted training there.)
Cayman 27 came out and did a story as well. It's only 47 seconds long, but still pretty good.
Reviews:
The War on Coral
"Return to Cayman" is a good summer read — fast and furious — with the occasional slowdown to admire the scenery. In true thriller fashion, the novel provides not only an exciting ride, but a greater awareness of what's happening in our oceans. (Read the entire review here)
Cat Pleska, WV Book Team, Charleston (WV) Sunday Gazette-Mail.
Five Stars: Great Read for Divers and Lovers of Cayman!
ALTross: Eric Douglas – Thank you for writing such a fun and exciting novel, I finished it in a few hours. Love Cayman, Sunset House, Diving and Technology all wrapped into one lovely thriller! Great work and highly recommend to all my Cayman friends and Dive Buddies around the world… Love that part of the proceeds are going to the Cayman Magic Reef Restoration effort through July 31st!
Five Stars: Fantastic read
Bryce Clifton: I have read just about every book Eric Douglas and they have all been an adventure on their own. They have kept me up late more than once as I was unable to put them down once I start.
Five Stars: Five Stars
Derick: Thoroughly enjoyed the book
"If you tossed a shot of Carl Hiaasen's eco-consciousness into a tall tumbler of Clive Cussler's action, it would taste a lot like Return to Cayman."
Loren Holt, reviewer for the I Saw Lightning Fall blog. Read the entire review here.
From the beginning, I was impressed with Eric's writing style. His Mike Scott adventures continue to be at the top of my must-read list with every new release. The latest brings Mike back to the Caymans where the series began. It's just good writing that paints a vivid picture and tells a story comparable to a summer blockbuster action movie. Two big fins up!
"Greg The Divemaster" Holt: Host/Producer of ScubaRadio….the world's first and only nationally syndicated radio show devote to diving!
"The best Mike Scott adventure yet, humanized with a pinch of mid life crisis ('what good is a life, our stories, without loved ones to share with?'), layered over an enlightening love letter to the sea."
Daniel Boyd, author/filmmaker, Chillers, Carbon
Get ready to lose some sleep.   Mike Scott has returned to Grand Cayman for a celebration.   Little does he know that his world is about to turn upside-down.   Tech, intrigue, scuba diving and international conspiracy–all the right ingredients for a gripping Mike Scott adventure novel.
Jon Rusho, PADI Course Director, tech guru and avid reader
RETURN TO CAYMAN is a hold-onto-your-seat, destination thriller filled with eco-terrorism, computer hackers, cybercrime, drones, attempted murder, hostage-taking (of an entire island!), and expertly written scuba diving scenes. This Bond-like ride is filled with international characters, including brainy Italian and Russian beauties, plus the best Bond Girl of all: the stunning Grand Cayman Island herself.
Marie Manilla, Author of Shrapnel and The Patron Saint of Ugly
It is a great read that moves from page to page at a nice fast pace and a plot that could have been part of the morning's headlines. Mixing over blown egos with a bit of talent, computer hijacking and reef destruction made for an intriguing story. It was a little disorienting to have someone other than Keith & Karin Sahm running the Sunset House but your descriptions of it and Cayman was like visiting friends.
It is a great way to bring attention to the tragic and extensive damage the Carnival cruise ship caused to the reef near Don Foster's. Even nicer that you are choosing to donate some of your proceeds to its restoration.
Dan and Betty Orr, retired President of Divers Alert Network
"Mike Scott is one of Eric Douglas's best characters: smart, savvy, and skilled, his adventures set once again in the rich, lush landscapes of the Grand Cayman islands is not to be missed."
Eliot Parker, author of Breakdown at Clear River and Making Arrangements