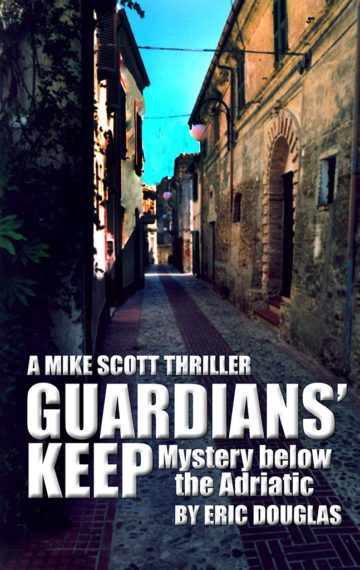 Publisher:

Visibility Press

Edition:

Second

Available in:

Paperback, Kindle
Amazon: Kindle and softcover
Barnes and Noble
Dr. Francesca "Frankie" DeMarco, a beautiful Italian archaeologist, is searching an underwater site on the Adriatic Coast of Italy. Chasing stories of a mysterious group of Guardians, she runs into roadblocks. Someone is trying to keep her from discovering the truth.
To unlock the mystery of the Guardians, Frankie and Mike Scott have to overcome a group of delusional fanatics. If they are successful, they might just find a religious artifact lost when the Romans overran the Temple in Jerusalem: the Breastplate of Judgment, worn by the Jewish high priest when he went before the Ark of the Covenant to talk to God.
If they aren't successful, they could be entombed for the rest of their lives.
Preview
Read a preview now!
Reviews
"Guardians' Keep is an awesome book. How can you go wrong? Chemical weapons, conspiracy, diving, exotic locations, the wanna-be bad guy that is really insane and the monologuing bad guy that claims he won't be caught monologuing. Awesome!" Jon Rusho

I recently read and very much enjoyed Guardians' Keep.  You need to pay close attention during the introduction or you will miss some of the connections, BUT the book is very well written, and Eric has a great aptitude for bringing the characters and action alive.  I do not usually write book reviews, but I feel compelled to tell my divebuddies to go ahead and read Eric's books, you will enjoy them.  I put Eric in the same category as my favorite author Clive Cussler. Clay from Underwater Connection, Jackson , NJ