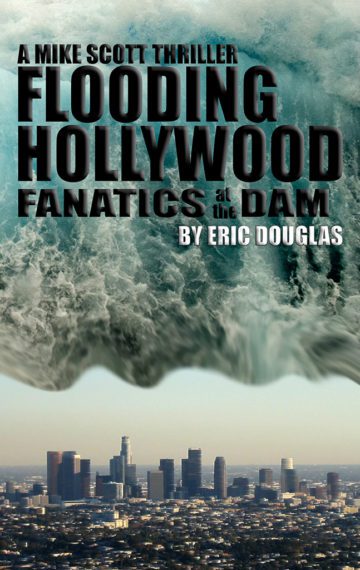 Publisher:

Visibility Press

Edition:

Second

Available in:

Paperback, Kindle
Kindle and Paperback
Barnes and Noble
Criminals in Los Angeles are using a dive operation to smuggle illegal drugs into the City of Angels. Or are they up to something more sinister? It is up to photographer Mike Scott to figure it out. And he has to do it before disaster strikes the heart of the city. Beginning as a simple photo shoot to capture glamorous images of an actress enjoying the sport she loves–scuba diving around Santa Catalina Island–things quickly turn serious. Before it all ends, the two will face danger and fanaticism in the Hollywood Hills.
Flooding Hollywood pits photographer Mike Scott against a group of fanatics bent on destroying Hollywood. The story begins with Mike Scott on a photo shoot with up and coming actress Diane Taylor. They decide to combine some personal recreation with the shoot and spend a couple days scuba diving in an around Santa Catalina Island, off the coast of southern California. On a dive, Scott witnesses another diver picking up stray packages underwater. He doesn't think much about it the first day, but when it happens two days in a row, it gets his mind going. Assuming the divers are smuggling drugs into the city, Scott tips off the police. That act of curiosity and initiative places Scott on a collision course with fanatics bent on imposing their will on the city of Los Angeles.
Set underwater around Catalina Island and around the city of Los Angeles, Flooding Hollywood takes readers on a ride from LA Harbor to the Hollywood hills on a fast-paced ride of intrigue.
Preview
Read a preview now!
Reviews
Five Stars! Fast paced easy to read follow-up Mike Scott action novel
Outstanding follow-up book to Cayman Cowboys involving Mike Scott however much more of a darker read in this age of global terrorism. As with Cayman Cowboys descriptions of diving technical procedures, vocabulary, and locales are first rate. Having lived plus dived in Southern California/North Carolina Outer Banks described in detail knowledge by author of both locales showed extensively throughout novel. Additional research involving Los Angeles Harbor and U.S. Coast Guard homeland security endeavors well research and written as well. Excellent read for cross country air travel since fast paced and easy to follow.
…reads like a major motion picture…this is pure entertainment whether you're a diver or not! – Greg Holt, host of Scuba Radio

…once you begin reading, it's hard to break away. Thanks for the great read, I loved Flooding Hollywood, and truly look forward to the next one. – Pat Hammer, owner of Scuba Emporium

Outstanding follow-up to Cayman Cowboys but much "darker" read in this new age of global terrorism. – LCDR Pat Murphy, U.S. Coast Guard (Ret.)

An exciting read from beginning to end, tied in with the great sport of scuba diving! – Team Divingindepth.

"I couldn't stop reading it. I wanted to find out what was going to happen to Mike and Diane; their characters intertwine nicely. I had to read it all the way through- a definite page turner!" – Ashley Bringman, Territory Manager, Sport Diver Magazine

I read Cayman Cowboys in one stretch. I couldn't put it down! I was afraid he couldn't do it a second time but he sure did with Flooding Hollywood! – Darcy Keiran, Total Diving, Montreal Canada

Divers can attest that nothing replaces your next dive, EXCEPT being engulfed in a great novel about diving!  However, diver or not, Eric Douglas's Flooding Hollywood page turner is a brilliant fiction that has the reader cheering on Mike Scott's latest adventure.- Lisa McClesky, diver, DMT