(This is the last of four blog posts about traveling and working with the NBC crew to tell the story of the lobster divers of Honduras.)
In my previous trips to Honduras, I had seen many, many injured divers—at the clinic, at home and on the streets. The one thing I had never been able to see was the divers actually at work. Last year when National Geographic was working on their online profile, they couldn't find any photographs of the Miskito Indians diving either. (If they can't find any diving images, you know no one has them.)
So, when NBC offered me the opportunity to go along with their camera man to act as a safety diver and shoot photographs of the divers in action, I jumped at the chance. Even with that motivation, the boat was not exactly a pleasure cruise. At no time was I ever threatened or uncomfortable, but there was a time when we were 90 miles off shore, out of radio contact and not even sure what waters we were in, I got a little nervous.
Our captain, Nelson, and his crew liked to smoke pot and drink beer. A lot. There was some irony to that as well. The boat was originally a US flag vessel which means it carried the standard US Coast Guard placards that describe the no tolerance policy for drug use on board. Just a few feet away from that sign was where the crew prepared the pot to smoke it.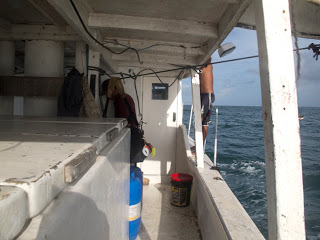 I'm not sure what the actual design of the boat was originally, but it had been dramatically changed with storage bins on the bow and stern…presumably for lobster. To make the trip, we were carrying extra diesel fuel in barrels on the narrow decks. Several times we had to stop so the crew could siphon more fuel from the barrels into the fuel tanks. Often the crew did this while smoking cigarettes. At one point in the middle of the night they must have spilled some because the smell of diesel filled the cabin where we slept and the next morning everything was greasy.
When we finally arrived at the lobstering grounds, it took us a few hours to find the dive boat we were supposed to meet up with. And when we did, he was in Nicaraguan waters. We were going to wait on him, but it was going to be a couple hours before he came back to Honduran waters. Fortunately we found another boat close by and they were willing to help. Bruce got on board and shot for a couple hours. It turned out that there was an injured diver on board the dive boat and so we brought him home with us. Elmer took began his care and he flew back to La Ceiba on the plane with us. It was the first time he had ever flown.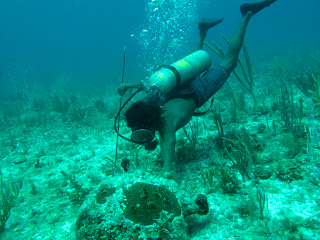 Chris and I went out in the skiff to dive. We had asked to have our own tanks, which we didn't get and also have lead weights which weren't there either. We ended up using tanks from the dive boat. We had to try 12 different tanks to find four that would work. They all had garbage for o-rings. Fortunately Chris brought along weights so we could dive, although not together. He did three dives and I just got in one, but still got in some good shots.
At one point Nelson brought the bigger boat over to tell us we needed to move. We had drifted into Colombian waters. During the trip, we had ventured from Honduras, to Nicaragua and then Colombia. All without ever setting foot on dry land.
It was around 1 pm when we got back on the boat. And we still had to go home. Heading back to Puerto Lempira we had good weather and a following sea so it flattened the ride out nicely. We slept some and relaxed…until about 1130 when Nelson woke us up to tell us that he had run out of oil. We were only 10 miles or so from shore, but we decided to wait until first light to go in then. I didn't really sleep the rest of the night. It was hot below decks in the cabin so I went up in deck and lay down on a pad. After the moon went down, the stars were amazing. I spent the night on a rocking boat staring at the stars.
It took us another 2.5 hours and another boat transfer to get back to Puerto Lempira. A total of 38 hours from the time we left. The rest of the crew was frantic when they met us at the dock. Natalie Morales, the correspondent, had already left that morning, but she called as soon she got to La Ceiba to check on us. Dr. Mejia had been in contact with the Honduran Navy and they had a boat out looking for us.
All in all, a pretty amazing trip. We were exhausted when we got back to town, but it was worth it. We got some fantastic footage that made the Rock Center with Brian Williams piece that much more special.
I hope that this show will bring some attention to this problem. It is slowly killing off an entire generation of indigenous people.
If you are interested in making a contribution to help support Dr. Mejia's clinic,
you can do so here.