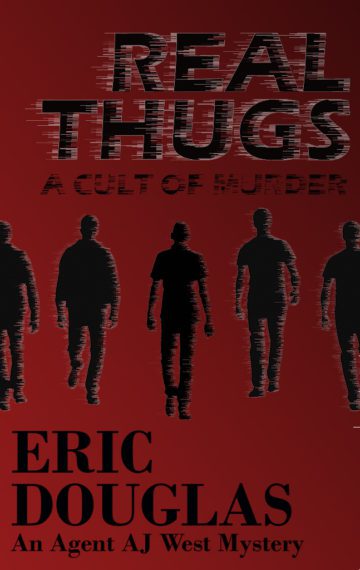 Publisher:

Visibility Press
Amazon Kindle
Amazon Softcover
Real Thugs: A Cult of Murder — Small groups of travelers have disappeared all over the mid-Atlantic without a trace. When bodies turn up with what appear to be ritual markings, FBI Agent AJ West is on the hunt for what might be a serial killer. Or something even more sinister. It's a race against time to make sure no one else goes missing and stop the killer, or killers, before there is a nationwide panic.
FBI Agent AJ West was first introduced in the Mike Scott thriller Water Crisis: Day Zero. Read the beginning of her story there.
Early Reviews
I knew when Eric introduced FBI Agent AJ West in Water Crisis: Day Zero that she was a character I wanted to read more about.
In Real Thugs: A Cult of Murder, Agent West keeps up her hard-charging, get-things-done ways and keeps things interesting right to the very end.
After reading this, I am already torn – I don't know if I want Eric's next book to be about Mike Scott or AJ West!
— Steve Barnett
Just wanted to take a moment to congratulate you on your terrific first novel in the Agent West series.  I breathlessly finished it in a few hours and now I can't wait to pick up Water Crisis.  I loved the surprise towards the end. It added an extra level of tension and excitement.  In a lotta ways she (AJ) reminds me of a badass adult Nancy Drew. Can't wait for your next Agent West novel!
— Dave Dobrow
"Real Thugs: A Cult Of Murder (An Agent AJ West Mystery)" only gradually reels you in, but once you have overcome what appears to be an obvious plot the possibilities for the story direction become wide open and makes it a hard one to put down until the very end.
— Deveron Milne