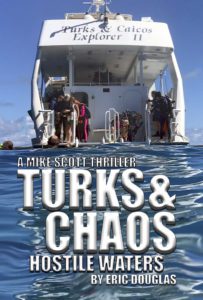 Eric recently joined the crew from the syndicated talk radio show ScubaRadioTM to discuss who would play Mike Scott in a movie based on Eric's novels. A number of actors' names were suggested, but two of the top choices were Alex O'Laughlin and Scott Eastwood.
Everyone agreed on the first choice for the actor to play the role of Mike's fiancee Dr. Francesca (Frankie) DeMarco: Gal Gadot.
Listen to the discussion here (it's been edited to keep the discussion on task. Listen to the entire episode on Hour 1).
If you have any other suggestions for actors to play the role of Mike Scott, or Frankie, let us know!
You can also listen to an announcement about the new audiobook for Turks and Chaos:
Or the audiobook commercial for all of Eric's audiobooks.