Jim Elliott's mantra is "Imagine the Possibilities." He doesn't just say it over and over, though. He lives it.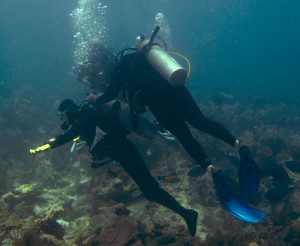 In 2001, Elliott founded Diveheart as a volunteer, nonprofit organization to help people with disabilities learn to scuba dive. Diveheart began in Chicago, but Elliott has taught classes in more than 200 cities in the United States and even more around the world. Diveheart has served as a conduit for thousands of people with disabilities to learn to dive, or divers and dive instructors to be adaptive dive buddies and instructors.
About a year ago, Elliott contacted me about creating new training materials for Diveheart Adaptive Scuba Instructors and Adaptive Dive Buddies to use to train Adaptive Divers. Adaptation is what it is all about. Adaptive Divers adapt to their individual situations and adapt standard scuba skills to their own abilities. If they can perform those standard skills with adaptations, they become certified scuba divers. If they need assistance with skills such as ear clearing, swimming or regulator recovery and clearing, for example, they will earn a Diveheart Adaptive Diver certification and will dive with two Adaptive Dive Buddies.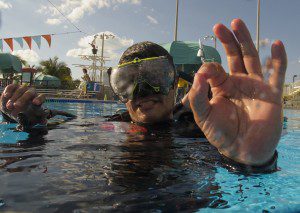 For Elliott, the magic comes when he takes someone from their wheelchair and gets them in the water. It doesn't have to be an amazing reef or some mysterious shipwreck. Life-changing experiences happen every day in a pool. Adaptive Divers experience weightlessness and freedom in the water and then start thinking about all the other things they can do. Diveheart also works with disabled veterans. Often, these veterans are depressed and have feelings of loss following amputations. In the water, these men and women feel "whole" and realize they can do anything. Elliott says he often sees changes happen after a single session.
The project has included hundreds of hours of editing, revision and discussion. It took two trips to Florida for me to understand exactly what it takes for Adaptive Divers to dive. The hardest part for me was comprehending the level of bravery and trust. Imagine trusting your dive buddies so much that you will jump in the water and make a dive without the ability to swim on your own, or pinch your own nose to clear your ears. There are blind divers who experience the thrill of being weightless, but have to trust their buddies enough to willingly step out and fall into the water. The fear of drowning could be overwhelming, but these divers do it anyway; for the adventure and for the opportunity to have new experiences.
In May, we spent a week in Key Largo shooting training video segments at the Jacobs Aquatics Center and on a dive boat donated for our efforts by Rainbow Reef Dive Center. The staff and boat crew from Rainbow Reef, under the direction of owner DJ Wood, provided tremendous service and joined in on the shoot, holding reflectors and serving as on-screen talent.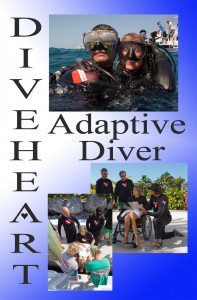 Rather than being exclusive or proprietary with these materials, Elliott plans to make them available to the entire dive industry for use as reference tools for any dive instructor or buddy who works with Adaptive Divers and wants to learn from Diveheart, and Elliott's, experience. The project is in its final stages. Some last minute edits and the Adaptive Diver and Adaptive Scuba Instructor and Dive Buddy manuals will soon be available, along with an online training system for use by adaptive dive buddies and instructors. Last week, I joined Elliott, Wilhelmina Stanton and a few volunteers at the Diveheart booth at the DEMA Show in Orlando, Florida to announce the program and begin talking to the dive industry about the new program and materials. The response was overwhelmingly positive.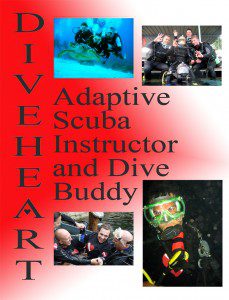 This is the first of three blog posts about Diveheart and the development of a ground-breaking set of training materials to train adaptive divers and adaptive dive buddies and instructors to learn to scuba dive. Next week (November 18), I'll talk about the video shoot process for filming training materials and the third installment (November 25) will include lessons I've learned from working with Elliott and some of the Adaptive Divers I've met through Diveheart.
I'll also be releasing a new Jackson Pauley/Withrow Key short story with a character inspired by Diveheart. The story is called Caesar's Gold..