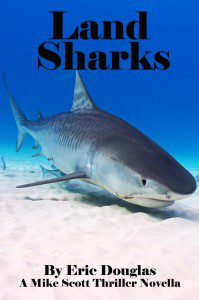 Two more Four Star reviews for the Mike Scott short story Land Sharks. It's free, so what are you waiting on?
Both of these reviews came through on Smashwords. This story is available in multiple ebook formats, including Nook, Kindle, iTunes and PDF. Of course, if you enjoy the story, there are six full-length novels full of Mike's adventures.
Review by: JohnGuida49 on Jan. 20, 2016:  Four Stars
A fun story that put me under water scuba diving and on the tropical islands (which was cool). It also embroiled me in an environmental scandal that seemed pretty serious and intense. One minor issue, especially for a short piece, the author could have polished it a bit more and streamlined some paragraphs but not a major issue. I recommend it.
Review by: RetCPO1 on Jan. 21, 2016:  Four Stars
This author really took the time to write a cohesive story. We have several main characters in a tropical setting involved in a crisis that mounts with intensity and violence. The story was pleasant and interesting. Good Job.
Find out more
Read more about the story, and read more reviews, on the Land Sharks book page.