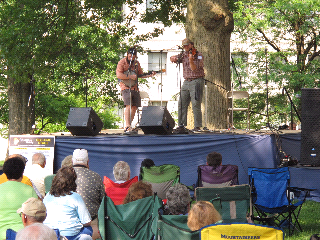 I like going to outdoor fairs and festivals. It's just fun to watch people, sample foods, arts and crafts and listen to live entertainment. Vandalia is a great festival held every year over the Memorial Day weekend on the grounds of the West Virginia State Capitol.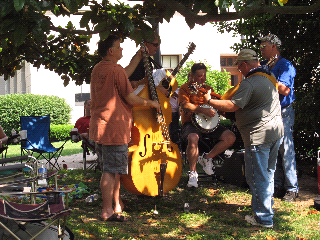 There are several stages with music. And performers come to be judged on their abilities.
The thing that I find most fascinating, though, is all of the side music. Everywhere you look, small groups of performers are playing. Not to be judged or win prizes, but for the sheer joy of playing music. They just jam and play and have fun. I wish I had that sort of musical ability. To just pick up an instrument, join a group and play.
I was sort of amused, though at the musicians who made the decision to play the upright bass. This is not an easy instrument to cart around, but I saw several being used and several more being carried in soft-sided cases as back packs. It was hot, and sweaty but the musicians didn't seem to mind. I guess that is suffering for their art. It made me think, though, that a couple of them were probably wishing they had learned to play the "fiddle" instead.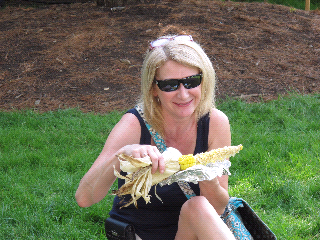 Even if country or old-time music isn't exactly your thing, it's worth the visit just to see the people who do show up. And get some lemonade, roasted corn, and a funnel cake….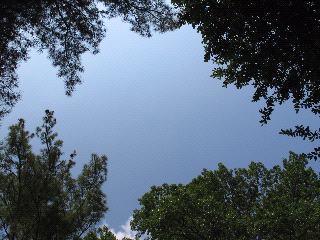 Lying back in the grass and staring at the sky has it's appeal, too.