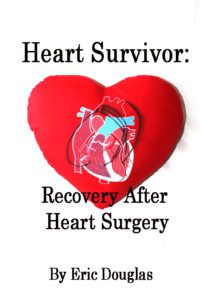 Charleston author Eric Douglas will donate proceeds from his book Heart Survivor: Recovery After Heart Surgery to the 2017 Charleston Heart Walk. Douglas wrote the book to detail his recovery from open-heart surgery and his return to fitness to inspire others facing the same diagnosis.
In January 2016, Douglas visited his doctor to rule out the possibility of a heart problem before addressing what he thought were heartburn issues. He failed his stress test and was swept away into an odyssey of surgery and recovery.
"It can be daunting to hear the words 'heart disease.' You don't know what you have to do to recover, or even if you can recover back to doing what you want to do. I don't hold myself up as an ideal, but I do know what worked for me and I use that as an example throughout the book," Douglas explained.
Douglas set a goal of returning to fitness so he could be cleared to scuba dive again. He knew what he would have to do and immediately set out to make it happen. Along the way, he overcame hurdles and suffered setbacks. Douglas' story is for anyone diagnosed with heart disease whether they are treating their condition with diet and medications, received stents to open arteries or have had open-heart surgery. To further illustrate the recovery process, Douglas surveyed more than 100 survivors to learn about their diagnoses, the changes they made in their own lives and how their own recoveries progressed.
"The American Heart Association is a great resource of information when it comes to what you can do, and need to do, when it comes to getting and staying healthy. They also fund a lot of research into ways to improve our heart health. Obviously, it's personal for me now, but I want everyone to understand it should be personal for them, too. Heart disease is the number one killer for men and women in the United States and Stroke is the number five killer. We need to improve our health so we can live longer and better," he said.
For the month of September, Douglas has pledged to donate the royalties from the sale of the book Heart Survivor: Recovery After Heart Surgery to the Charleston Heart Walk. The book is available in softcover and as an Kindle ebook.
To donate to, or join, Douglas' heart walk team, Team Second Chance, visit the Heart Walk website.