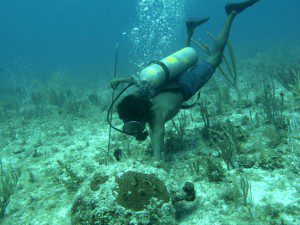 In May 2009, Honduras agreed to close its spiny lobster fishery to commercial fishermen using scuba to collect their harvest. The government kept delaying. In 2015, it finally appears to be happening, thanks to a pledge from five American companies.
In early 2010, I made my first trip to Honduras to get a better understanding of the problem. At the time, I was the Director of Education for Divers Alert Network (DAN) and I was traveling with my friend Dr. Mathias Nochetto, the Latin American Medical Director for DAN. We met with Dr. Elmer Mejia, a Honduran doctor who operated a clinic to care for the injured divers. He had tremendous success treating them. However, he often didn't see his patients for four or five days after they became paralyzed. That experience led to three more trips to Honduras along with trips to Mexico and Brazil to get a better understanding of the problem.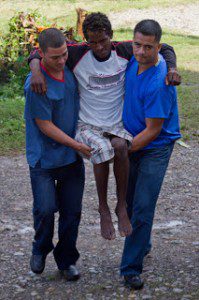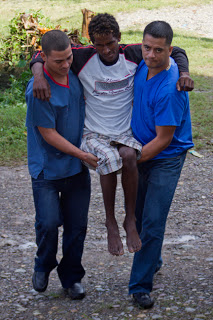 Moskito Indians from the Moskito Coast of Honduras were literally killing themselves to catch lobster for American markets. They were paid by the pound, so there was no incentive for them to dive safely. They were diving 8-12 times a day for 12 straight days, often to 100 feet or more. They only stopped diving when they returned to the boat and could no longer walk. They self-medicated with illegal drugs. When I visited Puerta Lempira, Honduras, I learned that more than 2000 Moskito Indians were severely and permanently disabled. That is out of about 10,000 Moskitos in Honduras working in the scuba/lobster industry. And that does not reflect the untold numbers who died from their injuries.
As a diver, it bothered me that my chosen sport, something that I worked more than a dozen years to make safer for everyone, was killing people who had little or no choice in the matter. While it is true they weren't physical slaves, being forced into the water at gun point, it was the only way they had to earn a living for their families. The industry did everything it could to keep them diving, discouraging diving more safely.
Since almost all of those lobster tails made their way into US markets, five companies have pledged to not accept lobsters caught on scuba and are putting steps into place to track where lobster comes from. There are still trap-caught lobster from Honduras. You can find out more at the website set up by the five companies at http://www.lobsterpledge.com/
I am proud to say that two news stories I played a part in are linked to from The Pledge website. I traveled to Honduras with an NBC news crew for the story Lobster Trap. The NBC crew used a magazine article I wrote and a multimedia documentary I put together as background. (Lobster Trap won the 2013 RFK Book & Journalism Award for International Television) I was also quoted in a story on NationalGeographic.com. You can find links and photos on my website.
There is a new president in Honduras, Juan Orlando Hernández, (January 2014) and it seems like the government is finally taking this problem seriously. A story in today's Herald from Honduras, says the Ministry of Agriculture is meeting with President Hernández today to discuss alternatives for the men who will lose their jobs.
It has been a long time coming, but it finally seems like it is coming to fruition. My prayers are for the men who have been permanently disabled by the lobster industry.