In 1990, I moved to Matewan, West Virginia, to run a small weekly newspaper called the Matewan Monitor. It was my first job after Marshall. To say I was ignorant and naïve to the history in that small town would be an understatement. Fortunately for me, John Sayles' movie about the Matewan massacre came out just a couple years before and the town had created a history center on Main Street. As a kid growing up in West Virginia, I had heard of the Hatfields and McCoys. It was a national legend. I knew it was connected to West Virginia, but not much more than that.
When I looked out the window of my small apartment in Matewan, I could see the Tug Fork of the Big Sandy River 50 feet away. The feud was literally fought right where I stood. Men from both families probably crossed the river right there. The landlord of the building where my office was located was a McCoy. There were Hatfields all over the place.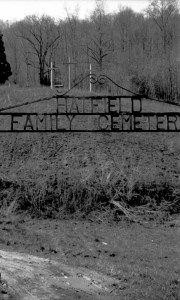 Every week I had to drive about an hour away to Pineville, in Wyoming County, where the newspaper's publisher had his office. I'd bring that week's stories and photographs to the office and put my paper together. (I still have copies of the newspapers I published in my six months there.) Along the route from Matewan to Pineville, I passed the Hatfield Family Cemetery. One day, I decided to stop.
I don't know if the cemetery grounds have been improved since then, but back then it was a small, lonely family cemetery with a muddy road leading up the hill. And that was where I came face to face with Devil Anse himself. Anderson "Devil Anse" was the iconic leader of the Hatfield family. He was long-since dead, but he still stands tall on top of the family grave, carved from white granite. Tree sap marked his shoulders and bare head. I was surprised that the cemetery itself hadn't been turned into a monument of sorts with tourists visiting regularly.
I had to go back to my black and white negatives to find these photographs and scan them. I've got tons of negatives in sleeves.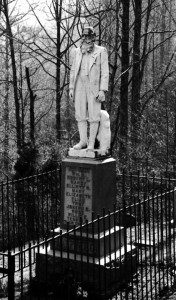 I've often said we (meaning West Virginians) don't do a good job of telling our own stories. We let people come in from outside to tell our stories and then we complain when they don't get it right. That said, I'm looking forward to the telling of this epic story on the History Channel beginning Memorial Day . It's a three day miniseries. The cast is Hollywood A-list so they have obviously put some money into it. I'm hoping they do the story justice. There is a tremendous amount of legend that goes around the story and it would be easy to "dramatize" events for the sake of excitement.
Fortunately, the feud is long since passed into history. In contrast, in 1990, the other big story from Matewan was the massacre where townspeople had a gun fight on the town streets with coal mine guards from the Baldwin-Felts detective agency in 1920. Buildings on the street still had bullet holes in them. And too many people "knew" someone who had been involved. Many of them had grown up on family stories sitting around the living room with their grandparents. They didn't like to talk about it too much. Frankly, that story probably required an outsider to come in and make that film—Sayles is from New York.
Still, there are smaller stories here that are just as important and just as powerful. We need to tell those stories and know our own history, no matter how fresh or how painful. I want my daughters to be proud of their heritage and understand their home. I want them to know about things in their own backyards and not naively visit someplace (like I did) without knowing what had happened there.
So, I'll be watching the miniseries and will encourage my girls to watch it with me. I hope Hollywood does a good job with the story. Is it pretty or noble? No. It's not. But it is our history and something to know about and understand..