Today is Pearl Harbor Day. December 7. Seventy years following the actual events in Hawaii.
Tony Sereno, part of the WWII exhibit at the WV Culture Center.
About five years ago, I wrote and published a story called Pearl Harbor Christmas. It's a story of one family's experiences over the 18 days from that infamous day in 1941 until Christmas day. It's based on the real-life experiences of Anthony Sereno and his family in West Virginia. I am proud to say I knew Tony, even if it was in his later years. He was a wonderful, funny, genuine man. No pretensions in him at all. He wouldn't have known how to have them.
Unfortunately, we lost Tony earlier this year. He was 94 when he died on July 19. He could have died that morning in 1941 as he worked on the model he was building of the very ship he served on…the USS West Virginia. I don't know how often it happened that a sailor served on a ship named for his home state, but it did this time. Tony didn't talk much about his experiences in the war. He simply served his country, came home and raised a family.
I guess those of us living today are fortunate. We think the most important things we have to complain about are changes to Facebook or whatever the latest reality TV fool is up to. I would bet that someone like Tony would say that's ok. I'm sure he would prefer that none of his family would have to go through the things he went through ever again.
As we prepare for the Christmas holiday, I would simply ask that we all take a moment to reflect on a day like today about the things that are really important. Do something nice for someone else. Remember the Christmas season is about love and giving and sacrifice. Not just the best deal at the department store.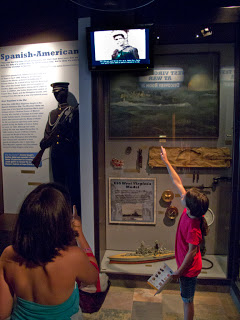 My daughters are proud of their great grandfather.
If you are fortunate enough to know a veteran of World War II, tell them "Thank You." And take another moment to say thank you to the other veterans and the people who have sacrificed for you. An old friend of mine that I am very happy to have reconnected with recently, Scott White, often talks about what a privilege and honor it is to talk to the "old" veterans when he visits the VA hospital.
I didn't serve in the military. I didn't have to and it wasn't my calling. But I am glad others made that choice. But I am working on a new project that will allow me to use my skills to recognize those who did. More on that later.
If you're interested in reading Tony's story, go to the Short Stories section of my website and download the story
Pearl Harbor Christmas
. It's a pretty good read, if I do say so myself.