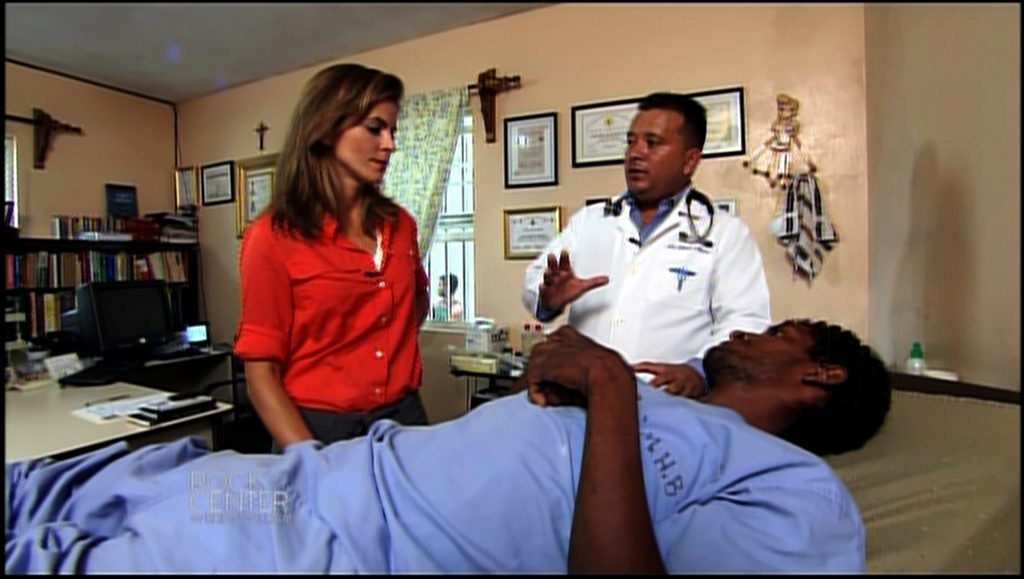 GoFundMe fundraiser set up to finance project
Link to the GoFundMe: https://www.gofundme.com/research-program-to-save-lives-of-divers
For more than 20 years, Dr. Elmer Mejia of Honduras risked his life to treat the Moskito Indians who live on the east coast of Honduras and Nicaragua. They suffered injuries using scuba equipment to hunt for lobster – all to feed American and European markets.
Throughout that period, Dr. Mejia treated thousands of cases of Moskito Indians with severe decompression illness including exceptional paralysis and incontinence. Often, Moskito Indian divers were carried into his clinic in Puerto Lempira, Honduras and were able to walk out under their own power several days later. Most had residual symptoms but were not paralyzed.
His treatment protocols fly in the face of conventional wisdom treating decompression illness, often beginning days after the injury with tremendous success. His success in many of these cases is nothing short of miraculous. He has patient records, case histories and in many cases follow up examinations on each of these divers.
Dr. Mejia is working with two nonprofit organizations to compile his patient records in a way that his work can be analyzed and used for extensive research. His patient records were written by hand using paper and pencil and have to be entered into a computer for analysis. Dr. Mejia is working with the American 501(c)(3) organization called the Chronic Disease Registry and the Diving Diseases Research Centre (DDRC) in Plymouth, England.
Donations will go to the non-profit Chronic Disease Registry and they will distribute funds to the DDRC in England as they prepare the database and analyze the data for future publication. They will also distribute some of the funds to Dr. Mejia to support him while he does the painstaking work of translating and recording the data.
The results of this research will revolutionize the care for all injured divers and others who need hyperbaric treatment for wound care.
Donations to this fundraiser will make the lives of all divers safer by improving the care they receive after an injury while helping to improve the lives of the indigenous Moskito Indians who have long been exploited for their ability to dive and their lack of other choices to support their families.
About the DDRC (https://www.ddrc.org/)
DDRC Healthcare (previously known as the Diving Diseases Research Centre) is a British hyperbaric medical organization located near Derriford Hospital in Plymouth, Devon. It is a UK registered charity (no.279652) and was established in 1980 at Fort Bovisand (then called Diving Diseases Research Centre) to research the effects of diving on human physiology. The Centre moved to its site on Plymouth Science Park in 1996.
DDRC Healthcare has become a world authority on hyperbaric medical treatments with many publications detailing its work. DDRC Healthcare promotes, provides and works to increase the availability of high quality, cost effective, hyperbaric oxygen (HBO) therapy, through provision of medical treatment and advice; education and training; and research.
About the Chronic Disease Registry (https://www.uswoundregistry.com/Home)
The Chronic Disease Registry hosts seven medical research registries – all listed with ClinicalTrials.gov including venous leg ulcers, cellular products, negative pressure wound therapy and podiatry. The organization is recognized by the Center for Medicare and Medicaid (CMS) as quality registries for reporting data on behalf of physicians. They have their own Institutional Review Board (IRB) for reviewing research protocols that use the data and analyzes data to develop improved practice guidelines. Their motto is "Harnessing Technology for Healthcare to Find What Works".