Yesterday, I had the pleasure of making a couple dives at Bluestone Dive Resort in Thomasville, North Carolina. It was a pleasure because I got to dive with my dad again, and I got to see a couple old friends and it was a perfect day to be outside enjoying the world. But most importantly, we were diving for a good cause.
The quarry is owned by Robert Outlaw, who also owns the
Blue Dolphin Dive Cen
ter in Winston-Salem. Bob and his family have been part of the diving community for more than 40 years. He has taught thousands of people to dive and moved them on to become dive instructors. His wife Janet runs the dive shop with a passion.
About six months ago, their son Ronnie, a paramedic and a dive instructor himself, became aware that his health wasn't where it should be. It just so happened, though, that he was headed for Afghanistan to do some training for Homeland Security. I didn't ask exactly what type of training he was doing over there, but it required him to grow his hair out and wear a beard. He put off seeing a doctor for a few weeks until he returned.
When Ronnie got back he discovered he had colon cancer. Not one of the happiest days, as you can imagine, for the 40-year-old. When I saw him yesterday, he said he had lost 85 pounds since the beginning of this ordeal. He was wearing a wrist band that said "F**K Cancer". He said that was his edited version…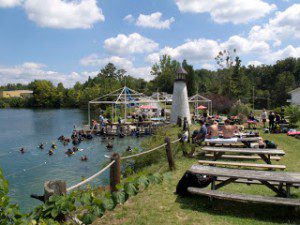 Divers in the water prepare for a shotgun start to hunt golfballs.
Ronnie is fighting hard, and still has the same grit and determination, but he needs some help with medical bills and such.  That was why approximately 150 divers came together to show their support. The quarry waived their entrance and air fill fees, in lieu of donations. I don't know how much money they raised, but the water barrels seemed to be filling up.
It's not live yet, but Janet plans to place the prizes that are still left as a silent auction on the Blue Dolphin Dive Center website. I encourage anyone reading to participate in the auction and help out a fellow diver and friend as he fights he way past cancer and the problems that come with it.