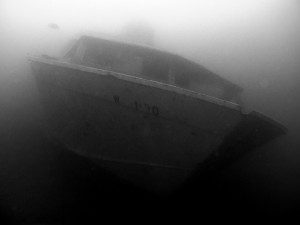 Sunken boat appearing through the gloom. This might just
show up in a story at some point…
When I'm diving, I'm often writing as well. I love the feeling of weightlessness and enjoy the fact that I can't hear my phone ring while I'm underwater, but while part of my mind is focused on what I see in front of me (and a part of my subconscious is focused on the act of diving: controlling my buoyancy, monitoring my air supply, and swimming) another part of my brain is writing a story or thinking about an article. Often, I see things and think to myself, I could make a story out of that. I've gotten inspiration for several of my novels and short stories while I've been blowing bubbles.
My first job in the dive industry, in 1998, was working for the Professional Association of Diving Instructors (PADI) as a technical writer. That job set me on a career path that has given me chances to see the world and make friends on nearly every continent. (Thank you Karl Shreeves for taking the chance on me when I didn't have all of the credentials you wanted.)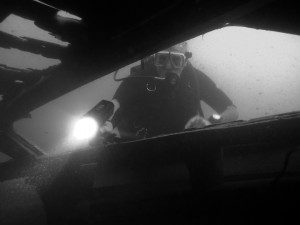 Dad peering into the sunken boat near winter access.
Yesterday I was diving with my dad for my birthday. It took us about an hour and a half to get to the local lake where we both learned to dive. That gave us a lot of time to catch up and talk. We actually missed one turn because we were talking. And then we made a couple dives together.
Summersville Lake in West Virginia is a pretty good place to dive. Yesterday, even with the thunderstorms that rolled through the night before, visibility was probably 30 feet or so. There was particulate in the water making photography a little tricky, but on the whole conditions were good. Water temperature was in the upper 70s on the surface and low 70s at the first thermocline. We didn't go deeper than that. There isn't a lot to see, but it can still be fun. There are some fish, some rock structures to look at and a small boat to dive on.
While we were diving, I was thinking about an article I wrote for The Undersea Journal in (I think) 1999 about diving with my dad. That was the first time we ever got a chance to get in the water together. He learned to dive after I had moved to California to work for PADI, but he came to California and we dived together there.  I wrote about it for the UJ and talked about how cool it was that you can share diving with your kids and your parents. I was also thinking about another friend of mine from PADI, James Morgan, who posted recently about taking his young sons snorkeling for the first time and how proud he was to be sharing his passion with his boys.
Diving has given me lots of things: travel, opportunities, and an escape. Probably the coolest thing it has given me, though, is a common ground with my dad and something we can share together. Who would've thought a father and son from West Virginia could end up sharing scuba diving as a hobby? I can't wait until my daughters express an interest in learning to dive. I won't push them into it, but when they tell me they are ready, I will get them in the water.
Last night, Beverly and I went to the Live On the Levee concert to enjoy some live music. While we were there, a friend stopped by for a minute and introduced me to his 10-year-old son. The boy was working on his scuba certification and would be finished in a couple weeks. The boy was excited about it, but you could tell the father couldn't have been prouder.
I watched them walk away and thought, "There goes another father and son ready to blow bubbles together." I hope it's something they share for a lifetime.