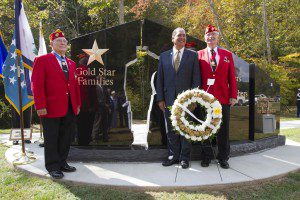 John 15:13: Greater love has no one than this: to lay down one's life for one's friends.
Hershel "Woody" Williams would add "or his country" to those words from the New Testament, he said. With that, the Medal of Honor recipient unveiled a new memorial at the Donel C. Kinnard Memorial State Veterans Cemetery in Dunbar, West Virginia on October 2, in honor of the Gold Star Mothers to remember the families of those in uniform who made the ultimate sacrifice.
It also happened to be Williams' 90th birthday, but the retired Marine doesn't seem to have lost a step. Williams is in constant motion and is highly revered throughout the state and country. He is the last surviving Medal of Honor recipient from the Battle of Iwo Jima in World War II. There were 27 Medals of Honor awarded from that battle. He is also the only surviving recipient of the nation's highest award in West Virginia.
At Williams' birthday party in Charleston the night before, he told a story of speaking to a crowd of veterans, as he does often. When he was done, one man hung back and Williams assumed the man wanted to ask him a question. When the man came forward finally, Williams said tears were streaming down his face. All he said was "Gold Star fathers cry, too." At that moment, Williams said, he decided to get to work.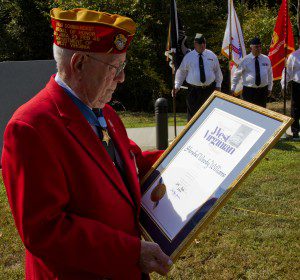 I had the honor of interviewing Williams for the West Virginia Voices of War documentary project. He is in the documentary and a longer version of his story is in the book Common Valor. Williams talks about his action on Iwo Jima for which he received his Medal of Honor, taking out seven enemy pill boxes with a flamethrower, but he also talks about what it is like to be a veteran and how his own experiences changed his life. Since returning to West Virginia, he has worked tirelessly for veteran's issues.
Using the occasion of his birthday, Williams officially launched the Hershel "Woody" Williams Medal of Honor Foundation. Number one on his priority list is to create Gold Star Families Memorial Monuments throughout the country. A second monument is planned for Marietta, Georgia. Others are also in the works. Williams' foundation is also supporting two of the Congressional Medal of Honor Foundation's programs.
The Character Development Program: mentoring students of all ages in schools and universities across the country. Woody strives to continually engage with students and express the importance of having good role models and "doing the right things in life".
The Citizen Honors program: Each year, Recipients of the Congressional Medal of Honor – our nation's highest award for wartime acts of valor – reach out across the nation to find unsung citizen heroes. The Recipients believe Americans need not serve in the military, nor be in combat against the Nation's en emies, to demonstrate the traits embodied in the Medal of Honor; courage, sacrifice, selflessness, and patriotism.
If you are interested in supporting these efforts, or learning more about Williams, visit his foundation's website..