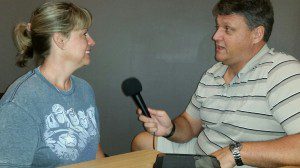 Next week, at various locations around town, I'll be recording oral histories from anyone who wants to participate as part of the FestivALL Oral History Project. I'm hoping to fill up every day and get as many recordings as possible.
Oral histories are simply recordings of whatever you want to talk about and record for posterity. No more and no less. They don't have to be dramatic or traumatic. The everyday stories are just as important as the bigger stories. In other words, everyone has a story to tell and to record. If for no other reason, oral histories are important to preserve memories for families. They record our voices and the life that made us who we are.
I'll be there to guide the interview and keep it moving. Of course, you're free to talk about anything you want to talk about. Participants will receive a copy of their recording. My hope is to produce some sort of documentary project afterward, using excerpts from the recordings, but until I listen to the recordings and see what we get, I'm not sure exactly what that will look like. If you'd rather not have your story included in the follow up project, that's fine, too. You are still welcome to take advantage of this opportunity.
This project is being sponsored by FestivALL and the locations that are providing the space. Below you'll find the location list and the way to sign up. The Clay Center has a signup form on their website and the other locations have provided phone numbers where you can call and set up an appointment. You can find the complete list and more information on the project on the FestivALL website.
To make an appointment:
Monday, June 22: The Clay Center. Visit the Clay Center website to make an appointment.
Tuesday, June 23: Emmanuel Baptist Church, 1401 Washington St. West, Charleston, WV 25387. Call the Church office at (304) 342 4988.
Wednesday, June 24: West Virginia Bureau of Senior Services. Call 304-558-3317. Ask for Tammy Webb or Lee Rogers.
Thursday, June 25: B'nai Jacob Synagogue. Call 304-346-4722 to make an appointment. (I understand this location has already filled up.)
Friday, June 26: West Virginia Culture Center Archives. Contact Susan Scouras, the Library Manager at 304-558-0230 X742..