(This is the second installment of the behind-the-scenes account of traveling with the NBC crew for the Rock Center story.)
Monday morning dawned early for most of us. The time difference was two hours then (daylight savings time was still on) so even though most of us wanted to sleep to be.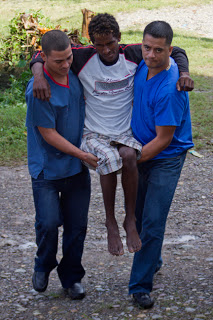 It worked out just as well, though. Photographer Bruce Bernstein and soundman/grip Chris Nickless and I were having breakfast around 7 am when Dr. Mejia came to the hotel. He was on the way to the dock to pick up another diver who was arriving right then. The man was more severely injured than the divers the night before. We all jumped into a car and took off for the clinic.
Dr. Mejia opened his hyperbaric clinic in November of 2009 to treat divers. This diver was his 227th patient in less than two years. He had serious weakness in one leg and no strength at all in the other. He was also unable to urinate on his own. Elmer placed a catheter and began the treatment; another US Navy Treatment Table 6. Dr. Mejia said he believed the diver would make a good recovery. He was already showing signs of recovery after the first few oxygen cycles of the treatment.
This treatment was the 596th time Dr. Mejia had run a treatment since opening the clinic. He averages seven treatments per patient; often multiple divers are in the chamber at the same time. While Dr. Mejia sees the most severe patients, almost always with some level of paralysis and often with bladder control issues, he has had tremendous success. He has an 81 percent success rate of divers leaving the chamber under their own power. Often they need a cane or a walker, but they are in much better shape than when they arrived.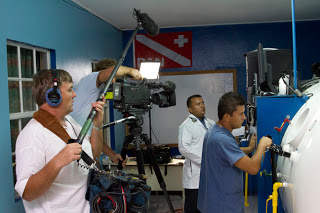 What still amazes me is that Dr. Mejia only charges about $300 US per diver. That is for all his care, not per treatment. Care includes treatment, food, lodging, physical therapy, any tests he has to run. Dr. Mejia doesn't charge the divers. He charges the boat owners, although sometimes they won't pay. He is reluctant to raise his prices any, however, as he is afraid the boat owners will refuse to pay, or worse will skip treatment all together.
I asked Dr. Mejia what he needed. His first answer was a generator. It is Honduras and the power goes out from time to time. He said he was afraid every time he began a treatment at night that the power would go out. He needs a better air compressor, too. The one he has is an industrial compressor, not designed for this type of work at all. He said he needs money for wheel chairs, walkers and canes as well. And shoes. Most of his patients don't make it to the chamber with shoes as they are taken right off of a boat and brought to the chamber.
But he does an exceptional job with very little. And he keeps doing it because it has to be done.
For anyone who watched the story last night on NBC's Rock Center and are interested in contributing to help Dr. Mejia,
you can do so here.