Photos courtesy of Jaime Rinehart and the WVSU Economic Development Center.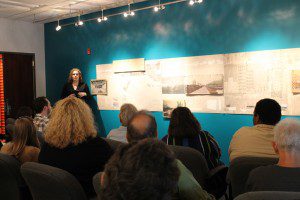 Why is good architecture reserved for the wealthy or for ceremonial spaces?
I heard that question the other night and it's still resonating in my head. The question was asked by Chelsie Nichelle Bush, a local woman with a degree in architecture. (She is still working on her licenses to be an architect.)
For her senior thesis, Bush focused on what she called "Nothing to Everyone: Investigating the Potential of Neglected Space" and directed her energy at Patrick Street. Bush presented her thesis to a group of 30 or so people interested in Charleston's West Side at the WVSU Economic Development Center last week.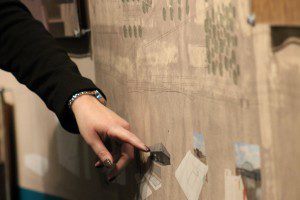 Most of us use Patrick Street as a way in and out of Charleston and a route to avoid stoplights and evening traffic heading west on the interstate. Bush looked long and hard at that end of the city and said, "What if…?" She spent a year imagining ways to improve Patrick Street.
"I think projects like this are important because it teaches us that we deserve better and that we should demand better," Bush said.
The area was once home to the Kelly Axe Factory, said to be the largest axe factory in the world, turning out more than 40,000 finished products a day. The factory closed in 1980. (Thanks to mywvhome.com for those details.) The Patrick Street Bridge is a Warren Through Truss Bridge, built in 1930, that is eligible to be added to the National Historic Register.
Some of Bush's ideas included creating a café space under the bridge, using an abandoned bridge pier as an overlook on the river and planting urban gardens in the underused parking lots along with adding plantings and benches to improve the appearance of the area. She talked about how the street that runs through the parking lot around the car dealerships and Kmart is haphazard and blends into the parking lot so no one knows exactly where to drive. Patrick Street itself is a navigation nightmare.
Bush didn't mention it, but I've heard rumblings about turning the CSX-Train Bridge over the Kanawha into an elevated park, like High Line Park in New York City, an elevated park built on an abandoned freight rail line on Manhattan's West Side. That park has gained international attention.
Charleston's West Side struggles with crime and other problems. While I'm not naïve enough to think that cleaning up Patrick Street will solve all of those problems, I do believe that improving the area can lead to greater investment and more positive attention.
There are obvious problems with any idea like this. Some of it is privately-owned property. It takes money to change things. There are politics involved. Nothing like this can happen overnight. But Chelsie Bush deserves a big hand for asking the questions and taking the initiative to get the ball rolling. Which brings us back to the question, why is good architecture reserved for the wealthy or for ceremonial spaces?.