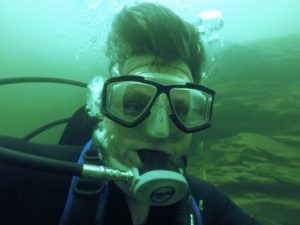 Eric Douglas has worked in the scuba diving industry for nearly 20 years, writing about diving and safety and first aid techniques. In 2005 he published his first novel about diving, set on Grand Cayman. Since 2011, Eric has worked full-time as an author and diving writer.
What's your writing day like?
On any given day, I've got three or four projects going. I get up every morning at 7 am and typically I am at my desk by 7:30. The day starts with checking emails that came in overnight and finishing up smaller projects that don't take as much creativity. Around 10 am, I try to get to "creative" writing, such as the latest novel. I'll spend three or four hours working on those projects and then the rest of the day is spent running errands or doing research and reading.
How do you come up with your ideas?
I wish there was an easy answer to that question. I get my inspiration from a lot of things. Sometimes, I'll hear about something and decide to use it as a theme for a story because I believe I can use my stories as a forum to educate as well as entertain. A great example of this is the free ebook Land Sharks. It is about shark finning. I decide to write that story to inform readers who might not know anything about finning.
What do you hope people take away from your books?
Most divers of a certain age will tell you that they were inspired to learn to dive by Mike Nelson and the television show Sea Hunt. For others of us, that inspiration came from Jacques Cousteau and his television show The Undersea Adventures of Jacques Cousteau. I hope my stories inspire a new generation of people to appreciate and explore the ocean.
How many more books do you have in you?
My bigger problem is time. I come up with new story ideas all the time, but I have to prioritize what I can actually get done. I write just about every idea down so if I ever get stuck for an idea, I can always go back to that list and find something to write about. In short, I have more books in me than I'll ever have time to write. But if I'm wrong and those story ideas ever dry up, I know I can always shoot off to an island somewhere and talk to the local divers. The story ideas will come.
How do you handle bad reviews?
I've been fortunate that I haven't gotten too many bad reviews for my books. They happen and you just have to live with them. The important thing to remember as a writer is that you can't please everyone and if you try, you won't please anyone. I have some dedicated fans who enjoy my work. That's all that matters to me. Most importantly, I'm telling the stories I want to tell.
What's your favorite dive?
I've been fortunate to get to dive in a lot of different place and a lot of different environments so there is no way I can pick just one. I love shipwrecks off of North Carolina, I love kelp forests in the Pacific. I learned to dive in Summersville Lake in West Virginia. One of my favorite night dives included lying flat on my back on a rock in the lake and watching the full moon on the surface.
Bonus Question:
What are you working on now?
I have two books in development right now. In the Fall, I will have a biography of disabled diver Leo Morales, called Dive-abled: The Leo Morales Story from Best Publishing and in the spring of 2017, the seventh Mike Scott thriller novel, Summer of the Shark, will be out.
After that? Who knows…