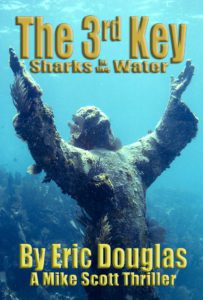 The following is the Dedication to The 3rd Key: Sharks in the Water.
Many of my fans know that a little over a year ago I faced a major health scare. I ended up having open-heart surgery and spent the next six months recovering and fighting my way back to diving status. From that experience, I wrote the short, personal book Heart Survivor: Recovery After Heart Surgery as an inspiration to those in the same situation.
I began this book before the diagnosis and surgery, but had to put it aside for a while as I recovered. I couldn't concentrate on a full-length novel. To quench the demand for a new Mike Scott thriller, I finished the novella Oil and Water, but I knew I needed to get back to this story as quickly as I could.
I am dedicating this book to my family, friends and fans who stuck by me during my recovery, sending my notes, texts and well-wishes and encouraging me to get back to my computer and write. This one is for all of you.
Thank you.
(If you want to read a preview of The 3rd Key: Sharks in the Water, go to the Book page.)