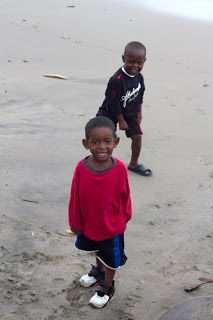 We had a pretty serious rain storm blow through last night. Everyone says the "rainy season" is over but you couldn't tell that last night. That probably explains why everything is so green all around. There are banana and plantain trees (there is a difference although I couldn't point it out to you) and fields of sugar cane, too. Street vendors sell fruit of about every description, too.
In and around the work we're doing here in Honduras, today was the first time we've taken the time to get out and do a little sight seeing. We went to visit the community of Sambo Creek. This is a small sea-side fishing village populated by the Garafuna people. Rather than being Hunduraneans or the La Miskitia, the Garafuna came from Africa through St. Vincent. They left St. Vincent in the mid-1800s and resettled on the coast of Honduras.
Like a lot of Honduras, the streets were a wreck—mostly dirt—and the facilities were marginal. Stray dogs wandered everywhere mixed into the cars, trucks, bikes and pedestrians. But the people were friendly and the food was good. As we were finishing up our lunch (I had some ceviche pescadora that reminds me I want to make some at home) a young girl came walking up with a basket balanced on her head. She was selling coconut bread. Elmer bought two bags, one for home and the other for the injured miskito divers he was treating in the chamber.
As we drove through Sambo Creek, I looked up in time to see a DAN flag hanging from a pole. It turned out to be a small dive shop. So, we stopped to say hello and I took a picture of the manager with Drs. Nochetto and Mejia. Just one of those surreal moments where you see a sign of home where you least expect it. Even more interesting, and a point that Matias made, was that at one time that flag was in our office in North Carolina. No clue how it made its way here, but it did.
We've been able to finish up everything we need to do, or at finishing it up right now. So, we've made arrangements to spend tomorrow touring a Mayan ruin in Copan before heading home on Saturday. Total travel time for that trip, from the time we head to the airport and then the time we get home will be over 24 hours. Loads of fun….