Saturday, February 7, Eric was on Scuba Radio with Greg Holt talking about the new 5 book boxed set. Listen to it here!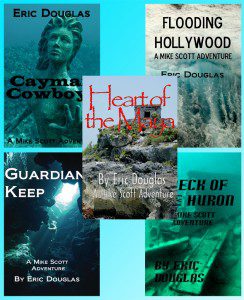 A new Mike Scott Adventures Boxed Set is now available on Kindle that includes all 5 Mike Scott adventure novels along with two short stories featuring Mike as well. In all, this is a $17 value, and would cost more than $50 in softcover, and you can get it all for just $9.99. Go to Amazon to download it right now!
But wait, there's more…
Okay, not really, but that's still a pretty cool deal. The digital age of publishing has changed everything about how books are priced and sold. What you used to pay for a single novel (or less) can now get you five complete books and a couple bonuses as well.
If you've ever thought about reading  the Mike Scott stories, but weren't sure where to begin, here's the solution. Download the boxed set and read them all.
Even better, the next Mike Scott story will be out June 1, 2015 and there are several cross references and tie-ins to the earlier books. Here is your chance to catch up on the earlier stories and catch all of the insider references.
This box set includes five Mike Scott adventure novels and two short stories, ordered chronologically in the order they were released.
Cayman Cowboys: Diving in Grand Cayman, magazine photographer Mike Scott notices a series of unusual occurrences including the death of a girl, a protest of new development and the systematic destruction of coral reefs. Investigating, he witnesses a specially-equipped submarine destroying the reef. Before he is able to report the destruction to the authorities, he and his dive buddy, Kelly, are kidnapped – along with Kelly's girlfriend Tanya.
Flooding Hollywood: Criminals in Los Angeles are using a dive operation to smuggle illegal drugs into the City of Angels. Or are they up to something more sinister? It is up to photographer Mike Scott to figure it out. And he has to do it before disaster strikes the heart of the city.
Guardians' Keep: Francesca DeMarco, a beautiful archaeologist, is searching an underwater site on the Adriatic Coast of Italy. Chasing stories of a mysterious group of Guardians, she runs into roadblocks as someone tries to keep her from discovering the truth. Underwater photographer Mike Scott is sent to do a story on the project, but when he and Dr. DeMarco are nearly killed in the process he decides to help her discover the truth.
Queen Conch: Queen Conch is a protected species in the United States, but smugglers are catching them close to Withrow Key for restaurants in Miami. In the process, they are tearing up the coral reefs and creating an environmental disaster.
Wreck of the Huron: When the USS Huron went down off the coast of North Carolina in 1877, she took most of her crew with her and a mystery about why they were headed to Cuba in the first place. When a present-day storm uncovers a long-hidden portion of the wreck, including the captain's lock box, international photojournalist Mike Scott and his friends dive on the wreck to find out more.
Heart of the Maya: Murder, kidnapping and the theft of an ancient Mayan statue, both 500 years ago and today, and diving in cenotes on the Mayan Riviera all come into play. Speaking at his alma mater Mike Scott learns that the death of a friend 25 years before might not have been an accident.
Land Sharks: International news photographer Mike Scott is on assignment in The Bahamas, working on a story about the recovery being made by Tiger Sharks because of the island-nation's no take laws. When he discovers several sharks that have been finned and thrown back in the ocean to die, he goes searching for the most dangerous predator in the ocean: Man!