My first dive after open-heart surgery. Six months post surgery, a few days after my 49th birthday and a few days before my dad's 78th birthday.
"Can you dive again after open-heart surgery? Author Eric Douglas tells the true story of his signs and symptoms of heart disease, and his road to recovery."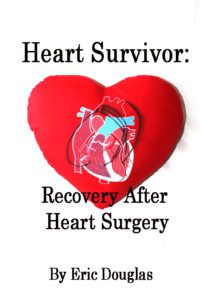 The following is a series of newspaper columns and articles I wrote for ScubaDiving.com about my open-heart surgery and my goal of returning to diving afterwards. This series is valuable for anyone facing the same diagnosis and working to return to a normal life.
For a more in-depth look (no pun intended) check out my short book Heart Survivor: Recovery from Heart Surgery.
From The Heart
Eric sat down with Kevin Pauley from the American Heart Association – WV for his show "From the Heart" to talk about being a heart survivor and for the upcoming Charleston Heart Walk.
On ScubaDiving.com
Scuba Diving Magazine has created a landing page for all six installments of the return to diving after heart disease.
Or read the individual stories:
Press
The American Heart Association featured Eric's story on the You're the Cure Page. Check it out!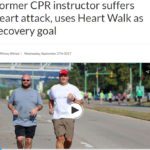 WCHS/WVAH-TV did a story on my heart recovery as a promo for the Charleston (WV) 2017 Heart Walk sponsored by the American Heart Association. Watch the story here.
Eric talked about completing his first 5K jog with Team Second Chance at the Charleston Heart Walk and getting Greg Holt back in the water at the DEMA show for the first time following his own open-heart surgery.
Talking to Greg about Eric's first dive after six months of recuperation from open heart surgery. Greg recently had surgery himself so he is trying to learn what it will be like for him. From 8-27-16.
Eric and Greg talked more about diving and heart disease on June 4, with the release of the third installment of the series on ScubaDiving.com.
Listen to Eric talk to Greg Holt from ScubaRadio about heart disease and divers along with the first column for Scuba Diving Magazine
In the newspaper:
Eric has also written a series of articles on heart disease and recovery for his local newspaper. They were originally published in print and on the Charleston Gazette-Mail website and then republished here.  Not specifically related to diving, these talk about many of the same issues.
https://www.booksbyeric.com/40-inches-or-below/