The following is most of Chapter 2 from the book Heart Survivor. I thought it was important to help my readers understand that I should have recognized the signs and symptoms of impending heart issues, but even with that experience, I still denied what was happening to me. It nearly cost me my life.
Who I Am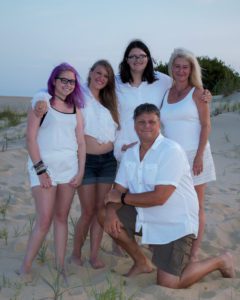 My name is Eric Douglas and I am a heart survivor. I like that phrase, but I also find it a little odd. I survived a heart attack and quintuple bypass surgery. I've survived cardiac rehab and have worked my tail off to get my life back.
My story is important because it's unusual and it's not. I'm 49 years old and have no family history of heart disease. I am not a super athlete, but I have always been active. I'm a scuba diver and have made a living for the last 20 years or so traveling the world teaching about scuba diving and dive safety. I'm also a son, a husband and a father.
One of the keys to this story, though, is that I am a full-time writer. I work from home and go to work every day with my computer. I tell stories for a living. What I've gone through, and what I'm writing about now, is the most important story I will ever tell as far as I'm concerned.
To back up a bit, I was born in the summer of 1967 in Charleston, West Virginia. I grew up what I would call lower middle class. I didn't have everything, but I don't remember wanting for a whole lot either. My brother and I have talked about it many times that we thought we had a good childhood. We played outside, rode horses, swam and did all the things kids growing up in the 70s did. I remember getting a home weight set at 11 or 12 years old. My brother and I would work out and that expanded into high school and college. In my 20s, I could bench press 365 pounds and squat and deadlift more than 400 pounds each.
Of course, growing up in Appalachia in the 70s and early 80s came with lots of casseroles and fried food. I spent a lot of time in my 20s in the gym, but I also spent a lot of time at the bar, consuming loads of empty calories. Still, I could balance it all out. I never had six-pack abs, but I carried my body well.
I bring all of that up simply to suggest that while I was active and relatively fit in my youth, my guess is my heart disease began back then.
I've been fortunate to tell stories my entire professional life. My degree is in journalism from Marshall University. I've worked in newspapers. I've written for magazines. I've produced photographic and audio documentaries. I've even had a collection of my photographs exhibited in Russia, France and the United States.
Right out of college, I looked at my minimal resume and decided I needed to add something to it that would make me stand out. I decided to learn to scuba dive. That decision gave me the opportunity to move from West Virginia to California to North Carolina. It also took me all over the world, visiting every continent except for Antarctica. The experience and adventure of diving is probably what makes my story interesting.
I said many of the seeds of my heart disease were likely sown in my childhood or youth. My recent history is just as important, however. In the last eight years, I've gotten a divorce, lost my job, moved a couple times and remarried. My stress levels have seen better days. On top of that, working for myself, sometimes wondering how I am going to pay my bills, has kept things tense.
Especially in the last few years I have felt guilty about getting up from my computer and exercising. That was time I felt I should be spending working at my desk. My health took a back seat to the stresses and pressures of daily life.
As I said, my story is different in some ways, but I think it is also extremely typical, too. I've dealt with life stresses. I didn't always eat well or take the best care of myself. Most importantly, I didn't see it coming when the diagnosis came out of left field.
Why I should have known better
In 1998 I moved to California to work in the recreational scuba diving industry. I was working for the Professional Association of Diving Instructors (PADI) and having the time of my life. Every conversation around the water cooler had to do with scuba diving. PADI is the world's largest scuba training agency and we had offices and affiliates all over the world. I was already a diver and a divemaster when I went to work there, but I was hired as a writer. I worked on the quarterly magazine we published as well as on new course development.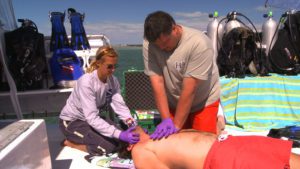 Browsing a dive magazine in the office one day, I read about the role of the diver medic in the diving community and set out to earn the certification for myself. My first step was to complete an Emergency Medical Technician (EMT) course at a local community college. I often tell people that I took my first cardiopulmonary resuscitation (CPR) course when I was nine-years-old. I became a CPR instructor in 1999 shortly after becoming a dive instructor, but this was my first real taste of emergency medicine. While the role of the EMT is limited, I absorbed a lot of theory about human physiology and how to provide care in an emergency.
From there, I took a course at the local hyperbaric chamber on how to provide emergency care for injured divers. It was there that I first performed CPR on a real patient. That was an experience I won't ever forget, but the details aren't important. Suffice it to say that the patient did not recover.
That all led me to my next position at Divers Alert Network (DAN). I spent nearly 12 years there running the training department. My job involved developing first aid and CPR courses specific to the diving world. I wrote the organization's first AED training course and then went on to develop a series of CPR courses for the lay provider and for the professional rescuer, writing the manuals and the video scripts. I also organized a course to teach others to be diver medics.
Every five years, I read the latest Emergency Cardiac Care guidelines from the American Heart Association and the International Liaison Committee on Resuscitation.1 I revised our training programs and demonstrated CPR all over the world. I issued more than 1000 certifications to people who wanted to be CPR Instructors and Instructor Trainers.
Literally every week I discussed CPR, first aid and the issues of the body, health and resuscitation. I know the signs and symptoms of a heart attack and sudden cardiac arrest as well as anyone. I've written the line that Denial is a sign of a heart attack dozens of times.
With all that information, why didn't I recognize Denial in my own situation?
I denied the possibility that I was having a heart-related problem. I ignored it, or justified it away. Most importantly, I didn't tell anyone how I was feeling. I didn't want to alarm my loved ones. And then came my actual diagnosis.
If you want to read more, check out the book Heart Survivor: Recovery After Heart Surgery.