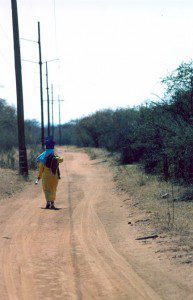 I still remember the first time I heard about Nelson Mandela and Apartheid in South Africa. It was 1985 and I was a freshman at Marshall University at the time.
In my freshman speech class, I had to give a persuasive speech on a topic. It seemed like it was all of a three or five minute talk, and of course I was nervous. (Oh, how far I've come…) I remember sitting in my dorm room wondering what I was going to talk about and listening to music on my stereo. I put on an album (yes, vinyl) and stared out the window. I flipped the album cover over and immediately had my answer.
The album was Manfred Mann's Earth Band "Somewhere in Afrika" and on the back cover Mann talked about Apartheid. He was born in South Africa and campaigned against the governmental system based on race and segregation. I remember being amazed that in 1985 there was a government system based on race. (It is possible I was a little naïve.) The album was ground breaking in that it included Afrikan rhythms, lyrics and musicians, predating Paul Simon's Graceland. Peter Gabriel's "Biko" also talks about the horrors of Apartheid, and was released earlier, but it was not the basis for the entire album.
Twenty years later (11 years after the end of Apartheid), I had the opportunity to visit Pretoria and Midrand, South Africa. I was eating dinner with a white South African friend and his family when I asked about Apartheid. I could tell it was something he would rather not have discussed, but he asked the manager of the restaurant, who was black, to come over. He told the man what I wanted to know about. The man looked at me for a few moments and said "Things are better now. Before, I would not have had this job and I would not have friends like your friend," he said, gesturing to my host Dr. Cronje.
Mandela served 27 years in prison until international pressure secured his release after being convicted of sabotage and conspiracy to overthrow the government. When he was released, I'm sure the people of South Africa expected him to be angry and punitive against the white government that had held him in prison for so long. Mandela had a different idea.
If you want to make peace with your enemy, you have to work with your enemy. Then he becomes your partner. Nelson Mandela
Nelson Mandela died today. In all of our fascination with "reality" and celebrity, his passing is significant. I'm sure there are other leaders out there who have changed the world as much as he did, but I can't think of any right now. I hope someone rises in his place. He will be missed, but I pray his legacy lives on. To me the world seems more divided, over less important things, than it has been in years. I wager Mandela would have thought most of what we fight and argue about is trivial.
On another note, music has incredible power to change minds and influence thought. There is no doubt learning of Apartheid through music shaped my feelings years before the west thought much about it. Time to listen to "Somewhere in Afrika" again. It really is a great album.
And it seems like we still have a long way to go..