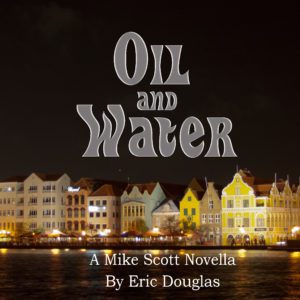 Oil and Water is now available in audiobook format through Audible, Amazon and iTunes.
The Story
Mike Scott is nearly killed when a private jet crashes into the ocean near him in the waters off Curacao. The cause of the crash is mysterious, but when men try to kidnap the plane's pilot, who Mike helped save, he realizes there is something even bigger going on.
Evidence on the downed plane points to terrorism, but Mike suspects an ulterior motive. To unravel the mystery, he has to stay alive and stop the kidnappers at the same time.
The exciting Mike Scott novella Oil and Water is now available in softcover, Kindle ebook and audiobook. You can enjoy a fast-paced thriller wherever you go.
There is a 3:28 minute audio sample on all three of the audiobook retail pages if you want to get a taste for the story.
You can also read some early reviews and get the book in softcover or on Kindle here.
Hear Eric join Greg Holt, along with the story's narrator CJ Goodearl, on ScubaRadio to talk about the story and listen to a couple short clips from the book. From 11-5-16.
Eric, Greg and CJ discussed the Oil and Water audiobook again on 11-12-16. CJ, the narrator, talked about what it was like to delve into the story and bring it to life using multiple voices.