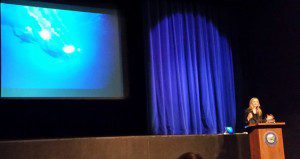 I can't think of anyone who has the "exploration" gene more than the family of the late Jacques Cousteau. His grandchildren are doing their best to live up to that legacy.
Fabien (son of Jacque's oldest son Jean-Michelle) recently spent 31 days living in an underwater habitat in the Florida Keys.
Alexandra (daughter of Jacque's son Phillipe) is a National Geographic Emerging Explorer and travels the globe speaking about water issues.
Alexandra Cousteau was in town last night, hosted by the West Virginia Higher Education Policy Commission to kick off the Chancellor's Speaker Series on STEM (Science, Technology, Engineering and Math) topics. Frankly, I wish I had the foresight to take my daughters along to hear her speak.
An explorer in her own right, Alexandra spoke of the inspiration provided by her grandfather. She told a story of constantly asking questions and finally, in frustration, he answered "Go and see for yourself." She said she has been doing that ever since.
"We often feel we have exhausted exploration. We haven't," she said. "We have to keep that spirit of exploration alive. The role of the explorer has changed. We are not the first something any more but exploring is about bringing back a new perspective."
Most divers in their 40s and 50s will tell you there were inspired to learn to dive watching the Undersea World of Jacques Cousteau on Sunday nights. (Many older divers cite Mike Nelson from Sea Hunt.) I'm in the Cousteau category. Alexandra Cousteau glossed over the development of the original aqualung device, but the work done by Jacques and engineer Emile Gagnan changed the world forever and led to many careers, exploration and discovery. And it is still going on.
While today we can dive and explore the oceans, there is still much left unseen and even more than we don't understand. Cousteau pointed out recent discoveries of animal species and the discovery of a bacteria that produces much of the oxygen we breathe. Things we didn't even know about until just a few years ago.
To the delight of the crowd, made up by mostly students and educators from West Virginia colleges and universities, she said "The most meaningful moments of my life were when I was with a scientist."
"We are not finished exploring this planet. Exploration has nothing to do with the exploration of our grandfathers," she explained and then issued a challenge to the audience. "Find a new way of seeing things."
She also said you can make a documentary today with a GoPro, a smart phone and a Facebook page. Technology has given us all the ability to be explorers.
The following are excerpts from her presentation.
The beginning.
Three things about exploration.