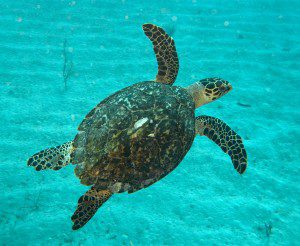 Everyone gets excited when they see a sea turtle in the water. They are just cool and fun to watch.
When my girls were young, after reading innumerable Magic Treehouse books with them, I decided to write them their very own chapter books to read. The first story was Sea Turtle Rescue and sea turtles still hold a special place for us today. Over the years, I wrote three more children's chapter stories with the same characters and now, for the first time, all four stories are available in one place. Three of these stories were published as part of the Newspapers in Education program, making them available in serial form for kids from all over the country to learn about the ocean. They were published in places as far apart as Bermuda and Iowa.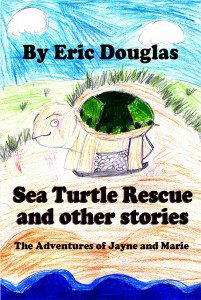 These stories are great for kids (or grandkids) interested in the ocean, history, sea turtles, sharks and science. The two main characters are young girls, but boys like the stories as well. My step-nephews tell me how much they like the stories all the time.
"Sea Turtle Rescue and other stories" is available in softcover for $10 and in ebook format for $5.99. The ebook is available through Kindle, Nook and most of the other ebook retailers. You can download it in multiple ereader formats through Smashwords.
Many thanks go out as well to Rick Melvin for three of the inside illustrations and to my older daughter Ashlin Douglas for the cover art.
Description
Two young girls move to the Outer Banks of North Carolina and learn about the ocean and life on the coast. There are four early chapter books in this collection, written for readers six- to nine-years-old. The stories are exciting but also include information on science, the ocean and history.
Sea Turtle Rescue is an ocean story about protecting sea turtles. When an injured sea turtle shows up near their home on the Outer Banks of North Carolina, Jayne and Marie, along with their friends Javier and Monique, search the beach to find the turtle's nest and protect it from danger. They know the time is getting short and if they don't find it soon, the eggs might not get a chance to hatch.
Fight for Fort Hatteras is a history story about the civil war. Jayne and Marie take a school trip to visit the site of a Civil War battle near their home on the Outer Banks. Marie wanders off and finds herself in the middle of the battle and afraid she may never see her family again.
Hurricane! is a science story on hurricanes hitting the coast. Jayne and Marie are faced with Hurricane Erin bearing down on their seaside town. Do they evacuate or stay with their father and protect the aquarium?
Swimming with Sharks is an ocean story about sharks and their value. Jayne and Marie love the ocean and enjoy spending time out on the water with their parents. For them, sharks are beautiful creatures, not something to be feared. But an up close and personal encounter makes Marie think twice.
You can read a number of reviews from the separate stories on the book page..