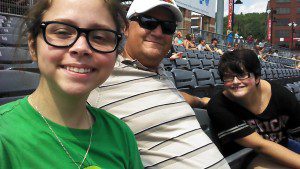 In the deepest, darkest middle of last week when the temperatures were lucky to get up to 0 (and wind chills gave us double digit negative numbers) not to mention the snow that piled up and couldn't/wouldn't melt, there was one sign of hope. Pitchers and catchers reported to Spring Training.
I will be the first to admit I'm not an avid baseball fan. I don't watch games on television (except maybe during the pennant races) and I don't keep stats on score sheets at every home game like several people I know. For me, going to the ball park is a rite of summer and a way to spend those hot, sticky days when simply moving causes you to sweat. And knowing that those days are coming reminds me to hold on just a little longer when the winter gets me down or makes me crazy. Or both.
I have memories of going to see Charleston Charlies games as a kid. I have memories of going to the same ballpark with my buddies and tanning our hides in the sun sitting in the cheap seats down the Third Base line and enjoying an adult beverage or four watching the Wheelers/Alley Cats. For a while I lived in Durham, North Carolina and went to see the Durham Bulls play. The Bulls play in a spiffy AAA ballpark now, not the aging one in the movie Bull Durham. That park is operated by a small college for their team and a couple different local festivals. I have walked that infield on a couple occasions and enjoyed the history of the place.
I've already secured my season tickets for the WV Power. I'll be back down the Third Base line with some buddies, although I don't spend any time in my seat with my shirt off like I did as a 20-something. And that is probably best for all concerned.
At a couple games, I'll have my daughters with me, too. Not that I expect them to become huge fans or even players. They have connections to a local collegiate softball team and I'm sure they could get some coaching if they asked, but that isn't the point. It is about family memories and hanging out in the summer. It is about time with friends and cruising to see who is at the ballpark.
Those are good summer memories that will stick with them for a lifetime. And, that's what keeps me moving forward when it is 0 degrees outside with a windchill that says "stupid".
Play Ball!.