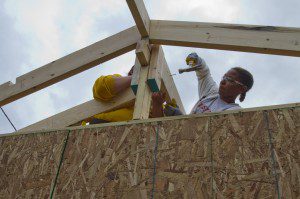 A few days ago, I listened to a group of women discussing footwear. They discussed the best places to buy them and different styles. Typical conversation at a coffee shop or the mall? Not even close. They were discussing work boots.
I use the facilities at the West Virginia State University Economic Development Center from time to time, giving presentations for the Creators Program and using the co-working facilities. On a recent visit, I met Misty Mayville and learned a bit about the Step-Up for Women program she runs from there. I was intrigued enough by what I heard to go see them at work.
Step-Up for Women gives women the skills to work in construction. They get hands-on experience with carpentry, plumbing, electrical work and more. The women leave the program ready to join a union apprentice program (for example) or get to work. Obviously, there's a lot of on-the-job training after the class, but that's true for any employee.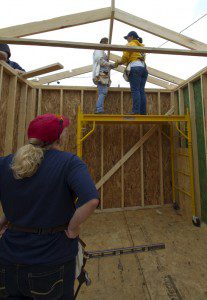 The program also covers topics like effective communication, budgeting/credit, resume writing, where to look for work and interviewing. The class even comes with gym membership because they need to be fit enough to do the job. Each semester, the program starts with around 16 women although inevitably a few drop out for one reason or another. The program lasts for 11 weeks and is totally free. They even help the women out with clothing, tools and mileage expenses.  There are programs in Martinsburg, and Morgantown as well.
The women were busy building a 10×12 foot storage shed while I was there, but I got a chance to talk to Heather Cain of Cross Lanes for a few minutes. Cain has a Bachelor's Degree and has worked as an accountant and as a blackjack dealer. But she said she wanted to do something with her hands and work outside.
"Like a lot of us, I'm a single mom and in my last job I was working nights. I slept all day and didn't have time for my kids," Cain said. "For me, family is more important than money. There aren't a lot of jobs working midnights in construction."
Her short-term goal is to get her apprentice license as an electrician and eventually she wants to own her business as a general contractor. Cain also noted that sometimes women feel they get taken advantage of with mechanics and contractors. "I've got a lot of things to do around the house. Now I can do them myself."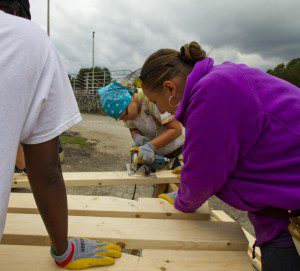 Cain even recommended the program to her soon-to-be 18-year-old daughter.
In an election cycle where, inevitably, politicians talk about "jobs" in the abstract but really don't have a clue what it takes to create them or train people to do them, Mayville and her crew impressed me. They wanted to work.
For more information on the Step Up for Women program, visit the website at wvwomenwork.org or call 304-720-1402. And, if you're interested in buying the storage shed, it's for sale. Call Mayville to discuss price and delivery..