In 2013, I published the book Common Valor and the audiodocumentary West Virginia Voices of War. Three of the World War II veterans interviewed were involved with D Day. Their stories, as published in the book, are included below.
If you would like to find out more about the book, visit the Voices of War page. You can read an excerpt of the book and watch the videos from the documentary.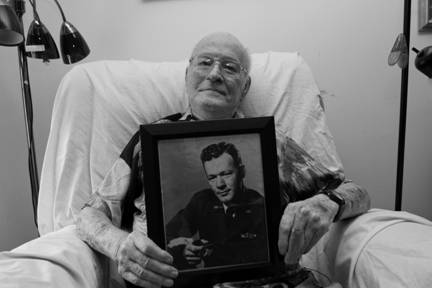 I was about to get drafted and I volunteered. They were gonna put me in a foxhole so I volunteered to fly. Joined as an Aviation Cadet and got my wings, came out as a pilot in August of 1942. Went to England primarily.
As an aviation cadet, you went to ground training in Tennessee and then on to Decatur Alabama to learn to fly and physical education. Eventually Advanced Flight Training in Stuttgart, Arkansas. I received my commission and my wings at Stuttgart. At that time, we were still flying training planes. You got out of there with your wings and they sent you on to an outfit for individual planes. I had hardly been out of West Virginia. They said we were going to Nashville and that sounded romantic. I got on a bus and a bunch of men with white gloves met us. I asked them where we were. They said Nashville and I said that is where I was supposed to be.
Thoroughly enjoyed my training and would do the same thing again. I had no idea about flying. Most of the guys were college graduates. Whatever we were studying the next day, I studied the night before. Some of them would help me out.
I was 21 and married. I bought a house before I went in the service and my wife lived in it. I was making $21 a month. After six months, they raised it to $50. When I started flying they added in flight pay so that was $75 a month. Occasionally I would write a letter. She didn't get many of them. She would write them; one or two a day. Whenever we got mail call, once or twice a month, the guys couldn't get over me getting all of those letters. I wasn't a writer. She wanted me to write her about romance. Whenever I would write, I would write about "Today I went to…" That was about all I could write. I'm no poet. But it worked out all right. We survived.
I went overseas in January of 44. I was flying C47s, dropping paratroopers and then following Patton, with supplies and tank parts. We went into Paris right after Paris fell. My plane was loaded with hard tack. A tank pulled up to my plane with a flag on it. Patton was standing out of the top of it. He pulled up to my plane and asked "What do you have for me Lieutenant?" I told him hard tack.
He said "My tanks are all broken down and I don't have any gas and you're bringing me hard tack? What the hell do I want with hard tack?" He was all red in the face and just reaming me out. Our loads were given to us by supreme command. We didn't have anything to do about it. I saw another plane coming in and said "That's my commanding officer. He has hard tack, too. Talk to him, I can't talk to you about it." I don't have any clue who was coming in but I got out of there. That's my claim to fame; I got chewed out by Patton.
Based on the Duke of Rutland's estate. That was where royalty went to go fox hunting. In Nottingham. They were bombing England. We would run to the bomb shelters.
We were getting ready for the invasion, stocking up the south of England with war material and everything. There was a lot of stocking up they had to do. Millions of tons of stuff that had to go. They were building hospitals and flying the nurses. You don't just have to feed them and clothe them. You have to do all these other things.
We took off at midnight on D-Day with a load of 82nd airborne paratroopers. The weather was real bad, flying through clouds. A formation of 1000 planes. We were supposed to drop our troops off at Sainte-Mère-Église. I went back through the plane and saw a man I went to school with. After the war I asked him if we dropped him right and he said "right on the money" so my troops got dropped right. They were loaded down and the Germans flooded swamps. If the paratroopers hit that they just sunk.
They were shooting at us. One in 10 was a tracer. For every one you see there were 10 more after you. And then there were "88" bursts around you.
We didn't see any German fighters. The whole British Air Force and the American Air Force was with us. North of Paris there weren't any German fighters. We had cleared them all out. They kept talking like they were going to attack at Calais. The Germans had no idea we were going to land at Normandy.
I got stationed in France at Poix. It had been a German bomber base. That was when we were following Patton. Wherever he went, we went. He would say, "I'll have that airfield at 10 in the morning." Sometimes we landed while they were still shooting. We hauled tank parts, gasoline, uniforms, ammunition. Everything under the sun. Two trips a day.
We would fly into Cherbourg and they would put 20 stretchers on the sides with two nurses and we would haul them back to England, just west of London. We would land there and the nurses and doctors would meet us. And then we would go and get another load and go back. Not under fire at that time.
We were always working toward Germany. The Germans decided they were going to saw us up. They sent all kinds of tanks and troops into Calais and then they ran out of gas and ammunition.
We stopped at the river 30 miles short of Berlin. Russians were fighting the Germans like everything. The Germans wanted to get caught by the Americans instead of the Russians. Some of them tried to surrender to me. I was stationed at Berchtesgaden. One time, we landed at Munich, the German officers wanted to have a formal surrender ceremony. The sword and the band. I was off to the side and a German lieutenant and some soldiers said that's not our unit but we want to surrender. So we went through our own little ceremony. They said "What is next?" I said "Beats me." I told them to take off their uniforms and their weapons and start running. Don't let anyone catch you and get lost. And they did.
The next time I was in Traunstein, Germany. I had a BMW motorcycle. Looking up ahead of me in the mountains I saw another captain and about 20 men in gray uniforms. Every one of those boys was handsome. They were special pick out of the population. The captain said "Comrade!" They all stacked their weapons. "We want to surrender." "Ok, go ahead and surrender." I told them to get their guns and we went to town. They took their guns to this building. They were taking these guns to arm the Chinese. Forget the men. I told them to throw their uniforms away and get lost. And the whole damn bunch scattered. They wanted to get rid of that uniform. They were only too glad to surrender.
It was a good war, in that we practically all had to go. People buy you a beer, buy you a cigar. Pat you on the back. We thought we were accomplishing something. Adolph was hard to fight and he had a bunch of people that were hard to fight.
During the Berlin airlift I flew 124 trips to Berlin. They would bring the airliners and take all the seats out. They would fly loads of coal, powdered potatoes and sugar. We would throw candy out to the Russian troops into occupied Berlin and then come in. One plane landed every three minutes no matter what. They had a big jeep there with a big follow me sign on it.
Sometimes the weather was so bad you couldn't see 100 yards. They had just developed radar and they could bring you in. Without that we couldn't have done it.
Came back and General Fox contacted me to be the Operations Officer at the 167th Fighter Bomber wing at the airport. There are about 150 units like the 130th air lift wing. For four straight years we were the best Air National Guard unit in the United States.
Because of all this I've had a good life. Some of it was makeshift flying, don't know where you're gonna land. It was a good life as far as I was concerned.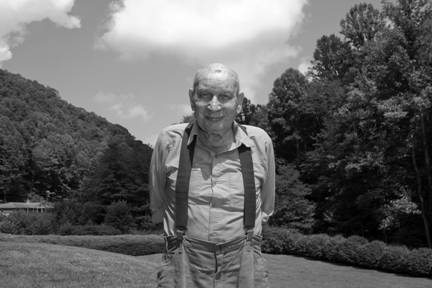 Finished high school and my number come up and I was drafted. May 7, 1943. I had never been out of West Virginia. They took us to Huntington for examination and they sent us home for a week to get everything in order. A young buck like me, I didn't have nothing to get in order.
I was in the 301st Port Company unloading ships. Our company was made up mostly of boys from Kentucky and West Virginia. We took 13 weeks of training. After 13 weeks they shipped people in from Illinois and NJ and we had to go through another 13 weeks of training. We worked the winter of 43 loading ships in Boston. There was a stevedores union. We could take it to the ships but we couldn't load it on the ships. They were making $40 a week. And we were making $50 a month. We could unload everything and take it to them, but we couldn't take it on the ships. It was a different story on the other side.
When we left to go overseas, the Salvation Army was there handing out gloves and caps. The Red Cross would sell you two donuts and a cup of coffee if you had the dime. Never had nothing for the Red Cross since.
Crossing, I was sick 10 days out of 12 going over. I lived on peanuts and Coca-Cola. Waves looked like they were 40 feet high. We went to Glasgow Scotland and then worked down to Plymouth England. We didn't know what it was for, but we were loading for the invasion.
We had air raids every night while we were in England. We had air raid shelters. We would go, most of the time you had no clothes on, just in your underwear and grab your pants. People coming in there half dressed.
We had to deal with the British crane operators. Tea Time comes at 10 in the morning and 3 in the evening, and they shut the cranes down. We worked loading barges. We just had enough to eat, to keep the hunger down. We went to chow one night; they asked "What do you want to eat?" It shocked us. We said "What do you mean?" We knew something was up but we didn't know what. It lasted one day and then the next night we shipped out.
We went inland to an old camp and then the next morning they got us up bright and early, there was a catholic chaplain and a protestant chaplain. One of them said, "Where we're going some of you will make it and some of you won't." You heard some groans but that was about it.
We were not told until we were on that ship getting ready to land what was going on. We knew something was up, but they kept it that quiet. Went in on D-Day.
They took us back to Plymouth and we boarded a ship, #226 on June 4. On #2 hold, it was stacked with 5 gallon jerry cans full of gas. And some of them were leaking. The whole company got on that ship. We were on the channel two full days. We were supposed to land on the fifth but a storm came up and we landed on June 6th. The channel was rough and I was sick.
On the morning of June 6th, we were in the tail of the convoy. We went up by Omaha Beach, but we were going on to Utah. A speed boat run up on us and we all thought it was a torpedo boat. We all tried to get below decks but we couldn't. And then the boat called out "Captain, you're in a mine field. Follow me." So we did and we got out of the minefield.
We anchored at Utah Beach and those big battleships were broadside and firing on the beach. You would see the gun go off, and then hear it and then see the shell way back over yonder go off.
I don't know what time, but an LCP pulled up beside our ship and that was our ride to the beach. It bottomed out and we waded in with water clear up under our armpits. We were in a single line. If there had been a machine gun there it could have mowed every one of us down. We were sitting ducks but the beach had done been taken at that time. We had to cross a flood wall. It was four to 12 feet tall. We crossed it was about 8 feet.
Utah Beach was cut into three beaches. We were supposed to land on Tarry Green and I don't know where we landed. The captain said if you get lost; go to the IP, Initial Point. I don't know where that initial point is to this day. But none of us got lost. We all stayed together.
The hedgerows were thick and the captain said we'll dig in right here. So we did and that night the Germans tried to wipe us out. The next day we had to go back out and unload ships.
We were unloading into an amphibious truck, called a duck. We unloaded shells, bombs. There were no rations. Before we left England, they gave us three K Rations. They said, don't eat these. You'll need them. They knew exactly what they were talking about.
We unloaded ships for five months, until November. We lived on that beach, in foxholes. After about the third day, the kitchen got there. Until then we had nothing to eat but those three K Rations. Every night, until July 26, the Germans would bomb us. That was the last night they tried. There was a big gun dug in over in the field from us and the Germans tried every way to knock that gun out. You could see the craters from where they tried, but it was still there when we pulled out.
We had terrible air raids, every night. They hit some good licks. They would drop flares. The air would be full of them. They looked like they would last for 30 minutes, but they were only 10 minutes. We were taught; if they drop a flare, act like a fence post.
On July 25, I'll never forget that day. The antiaircraft gun had radar on it. I heard the radar on. I knew the Germans were on the way. My foxhole was close. They threw everything they had against that gun. They killed a bunch of men, right across the road. Our whole battalion was dug in there.
Walking guard duty on the beach, rank did not matter. Two old boys came in there from Harlan County Kentucky. They had a 50 caliber machine gun, with four barrels. One of them boys said, "I hope we have an air raid tonight." I said, "Don't you worry, we always have an air raid." That was July 25. That air raid came in and they held that gun down until they melted the barrels on that gun. The next morning, I asked them if they got to use their gun. They said they melted the barrels and had to change them.
Then we went to Cherbourg. We were there during the battle of the Bulge. I know of one that volunteered, some were drafted to fight there. Christmas eve, 1944, I'm pulling KP, we were in an old bombed out building and there were two troop ships with 2200 men on them. The Germans sunk both of them and killed 1500 men. They saved 700 of them. They asked us to give up part of our Christmas dinner and we agreed.
We left there in the spring and went to Sees, France. The French were stealing us blind so we started taking ammo trains to the front lines, guarding them. We had to stay on that train until we got a relief, but we never got relieved. We took that train all the way to Nancy, France, all the way to the front lines. We had to make our way back on our own.
It was late in the day and the snow was falling. There was a fire way over yonder and we made our way over there and stood around the fire barrel all night long. The next day a British truck picked us up. He was heading to Paris so we went with him.
Paris had just been liberated. Went up to a USO. We were looking for coffee and donuts. Started into the USO, a big MP all shined up with white leggings and white gloves. Said, "Where you going soldier? You can't go in there. Class A uniforms." He asked for our orders so Vic gave him our orders. We had our weapons and the MP asked if they were loaded. We said, "What do you think?" They were loaded, the Germans were still around. Vic said, "Listen here young man, we're gonna get something to eat somewhere." He said "You wait here, don't go nowhere."
A limousine pulled up in front of the USO. The MP said that's your ride. It's gonna take you to a hotel. "Are they gonna feed us?" "Yes, they will feed you." We stayed the night. That was pretty good so we stayed that next day and the next night. We went to the Arc d' Triomphe and the Eiffel tower. The next morning we got out and headed to camp. We were afraid to chance it any more.
After we got back, they took us back to Bordeaux, France to guard prisoners of war. That was the best job we ever had. When we first got there, there was a great big hospital tent with clean beds. We picked out a bed and then they said we weren't supposed to be there. They took us across the ravine to squad tents and we stayed there through the end of the war. The Germans did everything. They cleaned our tents, did all the cooking.
After the war ended, we were going to Japan. All we were waiting on was transportation. We were waiting for our transportation in Antwerp Belgium, but it never came. We spent the winter of 1945 in Brussels Belgium. Beautiful place. They got us ready to go to La Harve France in February 46.
They put us on the George Washington, the old troop ship. It took us 10 days. I was determined not to get sick. I ate everything. We got into New York Harbor and they were taking us to Ft. Meade, Maryland. We got into NY Harbor, the tug boats blowing their horns, giving us a big welcome.
When I came back, I had problems, for a while and then finally it just went away. I'm a light sleeper. They boy I dug in with, he could sleep through anything, but I couldn't.
When I got back I met a young lady and we got married. Been married 65 years plus. Raised three children. I've got great grandchildren.
Church has been the biggest part of my life. I helped build that church in 1949 and 50. It has been the biggest part of our lives down in Bud. That's what kept me going.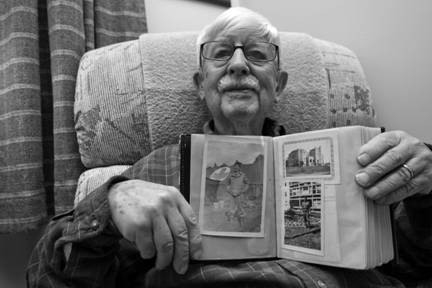 I was a senior at Sherman High School and I was president of the senior class when I was drafted in 1942. It was in November so I it was about halfway through the term.
I weighed 112 pounds. After the physical, they said we'll put a little weight on you. They put 11 pounds on me before I was discharged.
After basic, they moved our outfit to Springfield, Missouri at the O'Reilly General Hospital. We took medical and surgical technician training. They explained all the techniques and all the diseases we would encounter. The commanding officer said "Don't think you're a doctor. You know enough about medicine to be dangerous." Being in the medics, I had a card that said we wouldn't be interrogated. Carried it in my wallet all the time.
They loaded us up in the middle of the night and they took us to New York and loaded us onto a liberty ship and we went to Wales and then the next day they transported us to London. We took more training in London. During this training, I woke one morning and the roar was incredible. I didn't know they could get that many planes in the air. A few days later I was following them. On June 17th, we were on our way to France. We landed on Utah Beach. D Day + 10. It was high tide on the beach so we couldn't get in. We had to wait there in the open. German airplanes would come over at tree top level spraying bullets everywhere.
We went five and a half miles inland to Sainte-Mère-Église, France to this big field. The next day, we started setting up tents. We had 57 tents to set up the next day. That included the tents we lived in and for the patients. On the next day, on the 19th, we started getting patients. We were a Neo-Psychiatric unit. I never will forget one soldier come in and he was there, but that was it. He was dirty and disheveled. I was admitting patients at the time. He said I think I know you. I checked his dog tags and I did know him. He was from right across the river. The doctors determined whether they were ready to go back or not. He went back to the front, but then a few weeks later he was back and that was it for him. I asked about him but never did find out what happened to him after the war.
It was 24 hours a day. No such thing as an eight hour day. Everybody done it. There were less than 100 enlisted men. There were 12 doctors. Four of them were psychiatrists. They would assess the situation and determine the severity of the situation. It got so that even I knew what was going on with them. They were shell shocked. You could read it. We treated all of them. The severity determined if they were sent back to duty.
Up on the hill was a little church. Out from it was a graveyard. One day, I went up there. What I saw was…military personnel soaked with oil where they had fished them out of the surf. I didn't stay long. It was heartbreaking. That was the only time I went up there.
As the front lines advanced, we had to advance to keep up. I kept a diary of when we left and how far we went. After we were in France about a month, the Red Cross would come around and sell us cigarettes. I didn't smoke but I bought a carton of cigarettes and three cigars and passed them out to the patients. One time, this soldier grabbed me and said "I'm gonna kill you." You could see it in his eyes. We had corpsman on each end of the tent. It didn't particularly alarm me, because I knew what these guys had been through. It was something to see a soldier light up a big cigar with a smile on his face.
The USO started coming around. I got to see Bing Crosby and Bob Hope and Marlene Dietrich. One time they boosted it up saying a "Free Cigarette Lighter." When we got there, they gave everyone a book of matches. These were always outside because if we were in a building they would bomb it.
You could hear the buzz bombs come over. Only one ever came close and it did a lot of damage.
You could see the battles at night. Every so many bullets was a tracer. You would not believe the rainbow that was created from the thousands of tracers. We were camped out at night and a German bomber came over. All these spotlights came out and you could see the belly of the plane.
We didn't have any weapons in our outfit except a 45. It only came out when we went to get the payroll. When they had money, the men liked to gamble. Within two weeks of payday, they would be broke. And then they would come to me and borrow money. And I would loan it to them. And then one guy, "Tiny" was a mammoth man. He would ask who owed me money and then they would come and pay me. I only lost $5 because that guy transferred out before payroll. I was the smallest guy in the outfit, but he made sure that I got paid. And I knew who to trust.
I saw things that really disturbed me. And even now I can't get those things out of my mind. You saw devastation and patients that were so bad off you had to put them in a straight jacket.
We went on up through France and Belgium right close to the German border. Every time the battle got real bad, we were swamped with patients. On November 11, we had over 400 patients. We had 2137 patients for the month of November 1944.
December 20, 1944, we had 417 patients admitted that one day, due to the Battle of the Bulge that started on December 16. That day, one of them hollered and called me by name. He was clutching a large shoe box. In it were souvenirs that he was keeping. He asked me if I would ship it home to his wife. He grew up right here. I knew him real well. I didn't look in the box at all. The officer had to look through it. He gave me a watch. It is battle-scarred. I took it Galperin's but it would be too expensive to fix it, but they said the silver case was worth quite a bit.
I'll never forget one time they bombed out this building. It had a tremendous wine cellar. They had us all line up and gave us each a bottle of wine. I didn't drink but I took the bottle and kept it until V E day. It lasted a week or so. A lot of the others it was gone that day. There were a lot of good times as well as bad times. You made a lot of good friends.
We treated 17250 patients total. Round figures, out of 400 only about 250 went back to duty. In the minds of individuals, you can only take so much. Tragedy is just to the point if you crack up or don't.
When we wrote letters back home, we could not give any details. We had an officer, Captain Silver, who would read every letter. Anything he didn't like he would cut out with a razor blade. He brought me back a letter that was cut full of holes. And he chewed me out. I didn't tell nothing, at least not that I thought.
It was a little bit difficult when I got home. I had been places and seen things that a normal country boy would not be familiar with. When I got back, I enrolled in the senior class and graduated with them. It was a little bit difficult to do. I was older and I knew it. I've seen a lot of things I was grateful for, too. I do flash back sometimes. It is something I can't get away from. A lot of it is in my head, yet.
It was quite a while that I couldn't watch movies about the war. It upset me so that I couldn't sleep. My wife would tell me "You're not gonna watch that." She was right. It would go through my mind all night long. A young man, I felt like it was my duty to be there. I did the best I could. There were many things that I remembered later on.