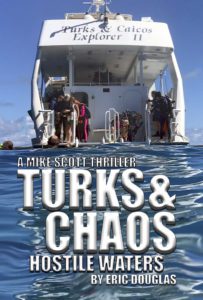 Update: Should be available in mid-May, according to the narrator. Listen here from ScubaRadio, May 5 2018:
This weekend on ScubaRadio I announced that Turks and Chaos: Hostile Waters is now in production as an audiobook!
CJ Goodearl is the voice-over artist who has voiced my previous three audiobooks (Oil and Water, Return to Cayman: Paradise Held Hostage and Lyin' Fish). He does a fantastic job making these stories come alive. If you haven't had a chance to listen to one of these stories, check them out.
Turks and Chaos: Hostile Waters came out at the end of 2017 and is set entirely on an Explorer Ventures liveaboard dive boat in Turks and Caicos. The story includes several cast members from ScubaRadio as well and this audiobook will include the real voices of some of the people who were on board the trip. We did the same thing with Lyin' Fish.
The audiobook version of Turks and Chaos: Hostile Waters will be available in April. If you haven't listened to the first three stories CJ produced, you are missing out. Get started listening to them now and enjoy an island adventure while you are in your car or at the gym.
Shout out
I'd like to say a quick shout out to Explorer Ventures for allowing me to set my story on board one of their boats. I think it makes the story that much more real to have a tangible location. I've cruised with Explorer Ventures. If you are looking to get to sea for a week and have a blast diving, I highly recommend them.