A couple years ago, I read a book by a fellow author and my first thought was "We have to do a crossover!" I probably even included the exclamation point in my mind.
The book was Redemp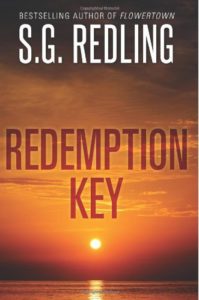 tion Key by the extremely talented and funny (she doesn't write humor, she's just a hoot in person) author Sheila Redling. After I read it, I realized it was the second in a series that started with The Widow File. I went back and read that story, too. Redemption Key is an island in the Florida Keys, not far from my own Withrow Key; a place with seedy, colorful characters, personal agendas and intrigue. The main character is Dani Britton.
I immediately sent Sheila a a note and brought up the idea of a crossover. She liked the idea, and was game for it, but had a couple other projects in the hopper so it wasn't something she could get to immediately. I was in pretty much the same position, but nearly every time Sheila and I chatted, the idea of the crossover came up.
When I started The 3rd Key: Sharks in the Water, I wasn't sure exactly how Dani Britton was going to join my cast, but there wasn't a doubt that she would. Dani and the rest of the characters from Redemption Key show up in Chapter 14.  I wanted it to feel natural, but at the same time I wanted readers familiar with Redemption Key to turn that page and be rewarded with a cameo from a familiar character.
I sent Sheila a draft of The 3rd Key during the editing stage to make sure I had done her creation justice. She approved with a couple minor edits. I was most amused when one of my editors sent me a note and asked for the real story behind the scar on Dani's leg. I told him to read Sheila's books to find out.
Ultimately, The 3rd Key: Sharks in the Water is a combination of three universes. Since this Mike Scott story was set in the Florida Keys, it only made sense to include Jackson Pauley from my Withrow Key short story series as well. This isn't the first crossover between those two worlds. The Withrow Key short story Queen Conch includes Mike Scott.
Once you read The 3rd Key: Sharks in the Water, I think you will agree Redemption Key fits in perfectly. Many thanks to Sheila Redling (her pen name is SG Redling) for trusting me with Dani Britton and Redemption Key. If you haven't read any of her work, do so now. You won't be disappointed.