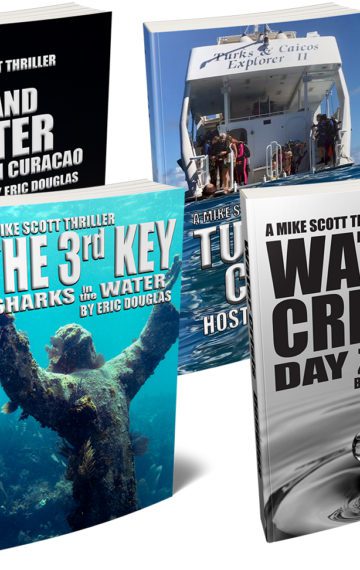 Pre-order now!
Amazon Kindle
Sun, sand, scuba diving, adventure and intrigue are all part of international photojournalist Mike Scott's life. And he finds adventure all around the world.
This box set includes four Mike Scott stories – two full length novels and two novellas.
Oil and Water: Crash in Curacao
A jet plane crashes in the waters off of the island nation of Curacao catapulting international news photographer Mike Scott on a chase to figure out who brought down the plane and why. More importantly, he has to save the life of the pilot he rescued from the water after the crash and his own life in the process.
Oil and Water weaves a story of international intrigue with oil cartels and mercenaries sent to disrupt their plans.
The 3rd Key: Sharks in the Water
Sharks are attacking divers in the Florida Keys. Mike Scott barely survives the first incident. But it doesn't make sense. These sharks are especially aggressive, attacking in groups and not retreating. It's almost like someone is controlling them.
The discovery that a narco sub full of drugs sank nearby may be the reason, but that doesn't explain why all the activity is focused around the Christ of the Abyss statue in Key Largo. Is there something else going on? Is it the statue itself? Or is there a larger conspiracy? It's up to Mike to unravel the mystery before anyone else gets hurt. Or killed.
Turks and Chaos: Hostile Waters
Armed gunmen board a liveaboard dive boat near Turks and Caicos in this sea story/action thriller. News photographer Mike Scott is on a dive vacation and gets taken hostage when the theft doesn't go as planned. When the identity of the head pirate is exposed, he declares that all the passengers will die when they reach their destination. It's up to Mike, the passengers and crew to overcome the pirates and save their own lives. It doesn't help matters that there is a mole on board feeding the pirates information and they are heading right into a storm. Now they must rebel against the pirates and take the boat back before time runs out…
Dwindling freshwater resources around the world are causing unrest, riots and civil war. When photojournalist Mike Scott uncovers a Russian oligarch's plans to throw the United States in turmoil by poisoning the groundwater, he is in for the fight of his life to stop it. It's a race against time as Mike fights computer hackers, teams of assassins and robot drones to protect South Florida and the United States from its own Day Zero.
Looking for a box set of books 1-3 of the Mike Scott thriller series?
Looking for a box set of books 4-6 of the Mike Scott thriller series?