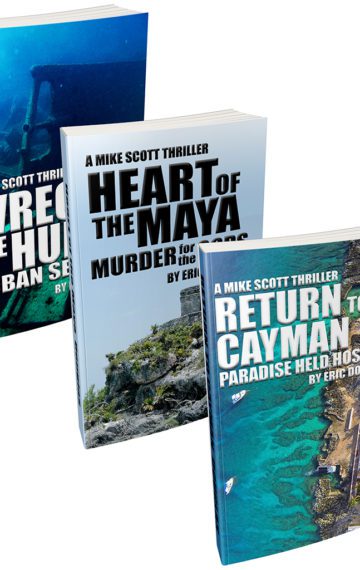 New lower price!
7.99
Publisher:

Visibility Press

Available in:

Kindle

Published:

July 11, 2017
Kindle
Sun, sand, scuba diving, adventure and intrigue are all part of international photojournalist Mike Scott's life. And he finds adventure all around the world.
This box set includes three Mike Scott thriller novels and a bonus short story, sequenced as they were originally released.
Looking for a box-set of the first three Mike Scott thrillers? 
How about a box set for books 7-10? Find it here!
Reviews
5.0 out of 5 stars Fun and easy read
It's been a long time since I've sat down and read a novel just for fun. I finished the box set in record time. Each book was fun and engaging. As a diver in a land locked state, I loved the mental refresher. I can't wait to start Return to Cayman.
5.0 out of 5 stars Diving and mystery……what could be better?
Got the boxed set for free one day and waited a long time to start reading. Once I did I didn't stop. As a diver and having been to Cayman it was fun to read about it. Also Tulum and Riviera Maya and the cenotes…..He writes about diving factually and explains things so that the layman can understand. The action is believable and certainly held my interest.
You won't be sorry. I just wish there were more books by Eric to read.
5.0 out of 5 stars Can't put them down!
I purchased this set for my Kindle and am nearly finished with them all. Eric's books are fun and engaging page-turners. I found that I would carry my Kindle with me just in case I had the opportunity to pick it up during the day – I really wanted to find out what happened next! They have the perfect mix of intrigue and adventure. They also make me want to take up scuba diving!