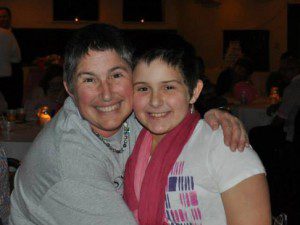 Note: The interviews and the columns in this series became the basis for a book: Keep on, Keepin' on. It was published last spring and is available through Amazon.
Tomorrow, Breast Cancer Awareness Month is over for another year and football players will stop using pink athletic tape; most of us will return to our daily lives. For women and families living with breast cancer, though, it is something that goes on for much more than a month.
For Jean Hanna Davis, in the middle of her second bout with cancer and the chemotherapy that goes with it, one way she deals with the tension, stress and sickness is her faith. She comes from a family with a strong belief system; her father is an ordained Deacon in the Catholic Church.  For someone who once planned to be one of the church's first women priests (she pursued a degree in theology) faith isn't a simple, singular thing, however. She discussed Faith and Cancer recently along with her parents John and Arlene.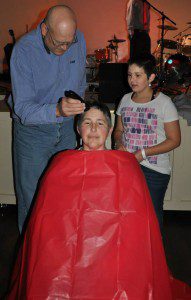 Jean: At a party, there was a woman there who spends half the year in Israel converting people to Christianity. She was very elderly. She went to Cindy, a five year breast cancer survivor, and this woman and Cindy, and six other people, came to me and said, "Would it be okay if we prayed over you?" By the time we got inside, there was this circle of women, and they had gotten Juliana because she is very much a co-survivor in this story, and they prayed over us and laid hands on us. It was all denominations and it was powerful. They were asking for intercession and healing.
Arlene: I believe that the power of prayer can work, the positiveness can work.
John: People ask me, "Can you use a Baptist prayer?" and I say, "Does it work?" If it works pray.
Arlene: When one or more get together…
Jean: I believe in all forms of prayer. A friend of mine came to school one day and gave me a medicine bag. He made sure to tell me that it was a powerful medicine bag because it was stitched by hand and other people are not supposed to touch it. When it is a gift from someone, you include something in it from yourself. And I have an incredibly worn guitar pick; that generally doesn't happen. It has thousands of hours on it that I put in it. I have some sage and some lavender from my garden that I put in it. I have a gem that fell off of a piece from Jeannette because as she crafts her jewelry she seals it with healing sound.  And then I have my Miraculous Medal that you gave me last time. And some other things…I carry this with me. Most days I wear it. I thought it was so neat that Wayne gave me this and I put my own twist in it. I carry a lot of different stuff, I really believe it is mojo.
Even for those with strong faith, and possibly more so, the helplessness that comes with disease is difficult.
John: God and I have had a number of arguments. Cursing is a form of prayer. I had a person who was studying theology tell me if you are having something going on, you talk to God like a person. That gave me the permission to talk to God.
Arlene: I like to talk to Mary, the mother of Jesus. I have a statue of Mary in my backyard and I've got to see her. Whenever I go into my living room I see her, it's a reminder.
John: I told a person who had cancer and was praying all the time for healing that death is the final healing. I struggle with that now. Is that something I believe in? We tend to say, "His will be done, as long as it's mine, too." Do we have the faith? All prayers are answered and you better answer mine the right way.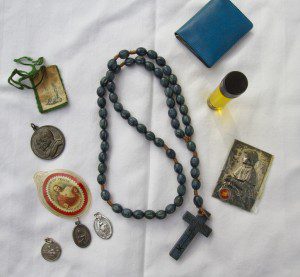 The year Jean was born, her grandmother Geraldine Loyola Hanna had breast cancer. Her birthday was October 28, the same day Jean had her fifth chemotherapy treatment. Her father brought Jean a collection of things that belonged to her including a rosary from Medjugorje (in Bosnia and Herzegovina), St. Jude oil, St. Elizabeth Ann Seton with relic, St. Jude medal, St. Dymphna, St. Lucy, Green Scapula, Sacred Heart of Jesus.
The rosary isn't from Grandmom, but it is directly connected to her because she was a fierce rosary prayin' woman. She always had a rosary in her hand. I fall asleep most nights praying the rosary. It helps me go to sleep. And then there is also a whole mess of medals. This was Grandmom's medal kit and she kept it with her.
The last time I had cancer, I wished Grandmom was there. She died 15 years ago of non-Hodgkins lymphoma after 32 years of being a breast cancer survivor. She did it and she lived with it. When I got all of that stuff on her birthday, I just felt that much more connected to her. My song that I wrote, Circle Around The Sun, is about her. "What do you when the walls come crashing down, when things just can't be the way they were?" I wrote it as she was dying.
The refrain is:
Circle around the sun,
Circle around the moon,
What goes around, comes around,
and it happens all too soon.
Then five years later I was diagnosed. I thought how nice it would be if she was here.
And now, thanks to the gift of faith from her father, Jean gets to keep Grandmom with her throughout this battle with breast cancer.
This is the final entry in the series of blogs for Breast Cancer Awareness Month. Jean Hanna Davis has given me access to each of her chemotherapy treatments while she works to rid her body of cancer for a second time.
Previous posts are:
You can see the entire series on the Breast Cancer Page in the non-fiction section of my website.
This series is dedicated to Jean and her family, along with all the women who have fought breast cancer—patients and families alike. Follow this link to find out more about Breast Cancer Awareness Month. It is a clearing house of information with links and connections to many of the major players in the fight against breast cancer..